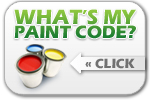 Painted Mirror Covers.
Black plastic mirrors on the V6? Come on Ford! What's the matter with you? Now you can update your 2010-2014 V6 Mustang's chintzy black plastic side-view mirrors with painted Mustang mirror covers from AmericanMuscle.
Painted Here to Match 2010-2014 Factory Mustang Colors.
These mirror covers are painted right here, at AmericanMuscle HQ, to match your stock Ford Mustang colors exactly. They'll give your Pony a mean, sleek look that will make it stand out from the crowd in a totally unique way.
Quality Construction, Easy Install.
Molded from high impact plastic and painted with the same base coat and clear coat urethane paint Ford uses on the exterior of your Mustang for a perfect color match. The tooling was made from Ford CAD data for a perfect fit to your mirrors. Installation is literally a "snap" just remove the stock mirror covers and snap the new covers in place for a quick and easy installation.
Application.
These Pre-painted Mirror Covers are designed to be a perfect addition to any 2010-2014 V6 Mustang, including Coupes and Convertibles.
Note: Select your year Mustang to see factory paint colors available for that year
These Mirror Covers are also available
Unpainted
for those who like to do-it-yourself.
Mustang Fitment:
2010, 2011, 2012, 2013, 2014
Details >>