Should I Swap my 1999-2004 Mustang's Flywheel When Changing Clutches?
• Flywheel upgrades are highly recommended to complement the purchase of a new clutch

• A new flywheel will ensure the best engagement possible from your new setup

• It is recommended in many cases to match your new clutch and flywheel by brand

• The construction material of your flywheel—steel or aluminum—is largely based on your intentions and future plans for the car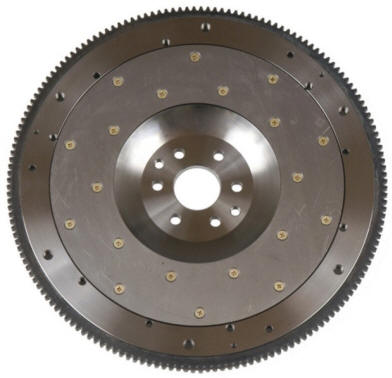 Flywheels are a highly recommended upgrade to complement the purchase of a new clutch, but they're often seen as not necessary by consumers. The truth is very much the opposite - a new flywheel will ensure that you're going to get the best engagement possible from your new setup. It will give the clutch a fresh new surface to grab rather than one that's been simply resurfaced and used for the last 20 thousand miles plus. Replacing the flywheel when you swap out your clutch components is fairly simple and is without question worth the added peace of mind and extra performance!
Should I match my Mustang's clutch and flywheel by brand?
Most companies design their flywheels and their clutches to be used in conjunction with one another. They are machined to precise tolerances to ensure precise engagement, optimum grip and the prevention of any premature failure. We highly recommend matching your clutch brand to its respective flywheel for the best results (i.e. Exedy clutch with Exedy flywheel).
Which is a better flywheel material for a Mustang, steel or aluminum?
Flywheels are available in one of two materials: steel or aluminum. Deciding which route to take will be based largely on your intentions for your Mustang. For a daily driven or slightly modified Mustang, you can't go wrong with either choice. The steel is a direct factory replacement and is what most people choose for their daily driver due to its durability.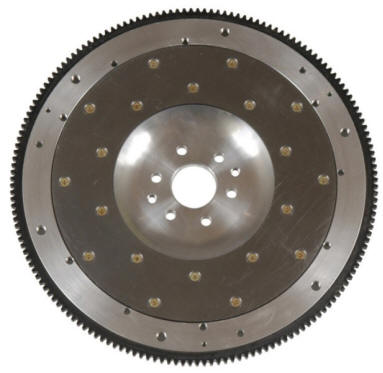 What flywheel will give my Mustang better performance, steel or aluminum?
The steel having a heavier rotating mass helps the motor get spinning easier and quicker at lower RPMs, making daily driving easier on both your left foot and the engine. The aluminum flywheel is typically a better option for Mustangs that make power in the higher RPM ranges. With its lighter rotating mass, it's able to rev faster, which puts the car into its power band faster.
Be careful when placing your order and be sure to order the proper flywheel for your year/model Mustang. For a quick verification, check out the list below to see what bolt pattern you have in your Mustang.
6 Bolt Flywheel:

Late 2001-2004 GT
Late 2001 Bullitt

8 Bolt Flywheel:

1999-Mid 2001 GT
Early 2001 Bullitt
2003-2004 Mach 1
What are the advantages to an adjustable clutch cable?
In stock form, you Mustang's clutch leaves you with limited adjustability. With aftermarket accessories, there are three main parts that help to control the clutch from the moment you press the pedal - the clutch cable, clutch quadrant and firewall adjuster. These items help to complete your clutch connection and improve your power delivery. The stock components are usually made of weak plastics only good for daily driving; these become worn and bent over the years and they should be replaced with stronger components. Here are some benefits that each part will provide.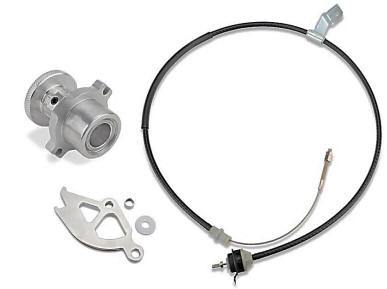 * Replace stretched out factory cable
* Improved clutch feel and less pedal effort
* Adjust pedal height when combined with a quadrant
* Replace flimsy stock plastic quadrant
* Improved engagement for flex free shifting
* Keeps cable in place
* Adjust clutch engagement point
* Adjust with one hand on firewall
* More adjustability over stock
Clutches and Flywheels are very important components of any manual transmission Mustang; it's where the engine starts to put the power to the wheels. When accessorized correctly, you can take full advantage of the clutch and use all of its potential gripping power! When upgrading your system, another option would be a hydraulic clutch conversion - this would replace the traditional cable system with a modern hydraulic linkage for a smoother and more manageable clutch operation. Upgrading your flywheel or other clutch accessories, such as the adjustable clutch cable, clutch quadrant or a firewall adjuster, will give you the adjustability you'll want and need.
FItment includes: • 1999, 2000, 2001, 2002, 2003, 2004, GT, V6, Mach 1, Bullitt, Cobra Mustangs