Types of Mustang Headlight Bulbs and their Advantages
Though Halogen bulbs are currently the most common found in cars today, there are other options that have distinct advantages and disadvantages. Here are a few of the most common types of bulbs used in automobiles:
Halogen: Low in cost when compared with Xenon and LED bulbs, these are still the most common bulbs used in cars today. With a gas-filled design these bulbs do not last very long compared to Xenon or LEDs.
It should also be noted; some HID bulbs also utilize halogen gas but are not intended for non-HID setups. Be sure to check the application before purchasing any bulbs.
Xenon/HID: Referring to the type of gas used, Xenon bulbs are available for both HID(high intensity discharge) and standard setups. Xenon bulbs that are HID-specific are more efficient and brighter than Halogen bulbs, as well as much more expensive. Also, HID setups should be factory installed on your Mustang and modifying your car with an aftermarket conversion kit requires a projection headlight meant to focus HID bulbs. It should also be mentioned HIDs take a moment to reach full luminosity, unlike LED and halogen lighting.
Bulbs labeled "Xenon" that are actually halogen merely have a blue tint added to the glass or a blue coating on the glass. These bulbs have nothing to do with Xenon except for producing light that appears to be a color similar to that of a true HID setup but produces no additional light. Bulbs like this can be used interchangeably with halogen bulbs and do not offer any of the advantages of a true HID Xenon setup.
LED: LEDs(Light-Emitting Diodes) need very little power to run but also tend to produce less light than an HID setup. LEDs reach full luminosity instantly, much like halogen bulbs. LED lighting is also much harder to focus, contributing being less bight than their HID counterpart. The major downfall of LEDs are their cost. Conversion kits can be purchased to convert from standard halogen bulbs to longer lasting and brighter LED lights.
Note: Some 2010+ Mustangs came equipped with HID lighting from Ford and need to utilize HID bulbs and lenses. Using an HID conversion kit with projectors/reflectors not intended with an HID setup, or that is not a factory setup, can be illegal due to the glare caused by an improper combination of light emissions and poorly controlled projection. Another issue, though uncommon, has been shortages in the wiring due to a voltage imbalance. If you purchase an HID kit for your Mustang, be sure to follow all instructions for setup and installation. HID setups need a HID-specific headlamp in addition to HID bulbs to properly focus the extra light that is emitted. Otherwise, your setup runs the risk of glaring and blinding other drivers.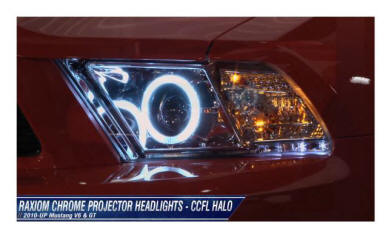 Reflector vs. Projector Mustang Headlights
Traditionally, Mustangs came equipped with standard reflection headlights that mirrored the light onto the road ahead. Projectors light up the road by focusing the beam into a more concentrated dispersion that not only allows for better vision but also helps prevent blinding other drivers. The increased safety and look of projectors make them a popular mod for 2010+ Mustangs that are not already equipped. The Halo design shown in projectors offers an exotic distinctiveness when applied to the 2010+ Mustangs, giving you another way to stand and increase the car's functionality.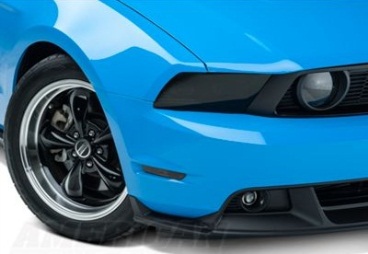 Mustang Lens Covers
Smoked headlight covers offer a sporty, intimidating look while protecting your lights by preventing the fading and scratching that will occur over time. Light covers are a simple installation for anyone with a Mustang and can be installed in a half hour or less, depending on your model Mustang.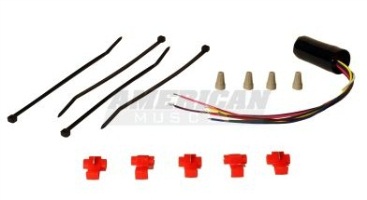 Mustang Day-time Running Lights
You can install a daytime running light kit to turn your turn signal lights into all-day running lights that shut off when you switch your headlights on. Providing extra safety and good looks, Day-time Running Lights provide a cheap way to keep your Stang standing out from the herd. Keep in mind these kits will not work with cars equipped with HID headlights.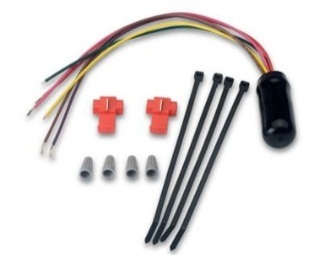 One-touch Turn Signal Kit
Are you one of those people who always forget to shut your turn signals off making a slight turn or lane change? A one-touch turn signal kit is here to save you. These kits allow you to simply touch the turn signal lever then release for a 6 interval signal that shuts off automatically. Instead of cruising for miles with your signal blinking install a One-touch Turn Signal Kit and save yourself the embarrassment every time. With these kits there is no need to remove or replace any existing components, just wire in the module and you're good.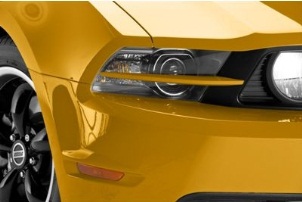 Mustang Headlight Splitters
A widely popular look on the 2010+ Mustang is the addition of headlight splitters. Purchasing headlight splitters for your V6 or GT are another way to up the intimidation factor of your Mustang and build upon your car's character. Headlight Splitters come pre-painted for the GT and V6 in all OEM colors direct from AmericanMuscle.
FItment includes: • 2010, 2011, 2012, 2013, 2014, GT, V6, GT500, Boss Mustangs