Understanding Tire Pressure Monitoring System (TPMS) in 2007+ Ford Mustangs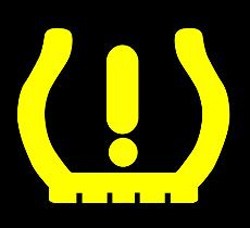 Understanding a Mustang's TPMS
When was the last time you checked your tire pressure? If you're like 25% of drivers, it wasn't recently. Did you know that driving on under-inflated tires:
• Can compromise the handling of your car?

• Means you will to replace your tires more frequently?

• Decreases your fuel efficiency?

• Can lead to tire failure?
All of these concerns led Congress to pass the TREAD Act in 2001. This Federal Law requires all 2007 model vehicles, weighing 10,000lbs or less, to have a tire pressure monitoring system (TPMS). Ford uses a Direct Band System in the 2007 Mustang. When the tire pressure in one or more of your tires drops 25% below the recommended cold air tire pressure inflation, the Low Tire Warning Lamp will turn on.
When this is lit, your tires are under-inflated, and need to be inflated to the correct tire pressure. You should check your tires as soon as possible after this light comes on, even if it goes off a short time later.
It is important to note that your car will not warn you about low tire pressure as soon as you start your car. Your car has to be moving at least 20 MPH (32 km/h) for two minutes before it will register that there is a problem.
If you need to use your spare tire, the TPMS system will continue to warn you that there is a problem with the road tire until you repair the tire and place it back on your car. The TPMS system will become fully functional again, only when you have repaired and remounted the wheel/tire on your car.
After putting air into your tires, the TPMS will not respond immediately to the air you have added. You will need to drive your car for two minutes, moving faster than 20 MPH (32 km/h) for the light to turn off after you have filled your tires to the recommended inflation pressure.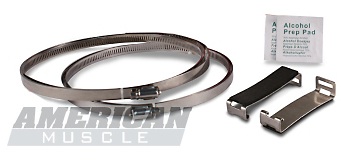 Mustang Direct Band TPMS Systems
Each tire comes with a tire pressure sensor secured to the wheel with a band and bracket system. The sensor is covered by the tire, and cannot be seen unless the tire is removed. The system measures the air pressure in your tires and sends readings of their levels to your Mustang. There are three parts to the Direct Band System:
1. The Sensor - Attached to the rim, under the tire, the sensor acts a transmitter, sending information about the wheel's tire pressure to the in-car receiver.

2. The Receiver – Located in the dash of your car, it turns on the warning light to let you know that your tire pressure is low.

3. The Band/Bracket – Holds the sensor secure to the wheel, ensuring that the sensor transmits information accurately.
Registering Your Mustang's Sensors
When Ford places the sensors on your Mustang's wheels at the factory, they are scanned and registered (assigned) to a specific wheel. This allows your technician to determine exactly where there is a problem. The sensors measure air pressure ONLY, so there is no need to register your sensors again if you buy larger rims. However, when having new wheels and tires mounted and balanced by a non-Ford Dealer, it is important that your tire technician put your sensors in the same location on the car.
For example, the sensor that was assigned to the Front Right Wheel will need to go on the new rim going in that location. If this is not done, you will need to re-register the sensors so that if there is a problem with the TPMS system, it can be properly diagnosed.
When it comes to your replacing your rims, you have three options for your TPMS:
1. Buy new bands and sensors from a Ford Dealer

Changing the rims on a 2007 Mustang means that you have to change the band and bracket to one that will accommodate the size of your new wheel. Ford offers size-specific bands for larger wheels, and you have to go to your local Ford Dealer to get a complete OEM kit (bands, brackets and sensors), and have your wheels/tires mounted and balanced.

Note: If you choose this option, but are buying wheels and tires from us, you will need to select "No, Do Not Mount My Tires or Balance My Wheels" when placing your order.

2. Buy the Universal Band from us and use your existing sensors

If you increase the size of your rim, you will need to purchase new bands/brackets to accommodate the size difference. However, you DO NOT need to buy new sensors! You simply reuse the sensors that are already on the wheels. The sensor measures only the inflation pressure, so you don't have to change them out or register them for the larger wheel. You also do not have to go to a Ford Dealer to have your rims and tires mounted and balanced! The Universal Bands give you the freedom to choose the shop you want to go to.

Note: AmericanMuscle.com cannot mount and balance wheels and tires purchased from us if you plan to use your existing sensors. When ordering, you will need to select "No, Do Not Mount My Tires or Balance My Wheels." We will ship them to you and you can take them to ANY SHOP to have the sensors transferred over.

3. Do Not use the TPMS sensor

There are a couple of benefits to this option:

o You do not have to spend additional money to have your wheels mounted and balanced by a shop or Ford Dealer.
o You do not need to spend the extra money on bands/brackets.
o You can have your wheels and tires mounted and balanced for free by AmericanMuscle.com.

The downside to choosing this option is the Tire Pressure Warning Lamp will remain constantly lit in your gauge panel. You will have to check your tires more frequently to make sure that they are maintaining the recommended pressure.
Having the Tires Taken Off Your Mustang's Rims
The TPMS sensor on a 2007 Mustang is fastened to the rim underneath your tire, and cannot be seen unless the tire is removed. Because the sensor is fragile, your tire technician will need to take extreme care in removing your tires to avoid damaging or destroying the sensor.
The sensor is located directly opposite (180 degrees) from the valve stem.
FItment includes: • 2005, 2006, 2007, 2008, 2009, 2010, 2011, 2012, 2013, 2014, GT, V6, Bullitt, GT500, Boss Mustangs