Mustang Wheel Sizes
What size wheel will fit my car? One of the questions we get most often is: what size wheel fit my car? It's a good question to ask, and all of the wheels we carry are made specifically for Mustangs. As long as you purchase a rim meant for your year Mustang, it will fit.
• 16": These rims are the standard stock size rim on most Mustangs. Purchasing these wheels will give you the same handling and ride quality you already have.

• 17": Going up to 17s will give you better handling without changing the ride quality of your car.

• 18": These rims will give you better handling than a 17", with only a very slight decrease in ride quality . The change in ride quality will be barely noticeable, if at all.

• 20": Getting 20" rims is less about ride quality and more about looks. Putting a wheel this size on your Mustang will give your car the appearance of being lowered because the wheel well will be filled. However, you may experience poor handling and ride quality in exchange.

Wheels this large look incredible on a Mustang, the tires are extremely low profile, and you're guaranteed to have a more muscular looking ride. However, there is a chance that your car will shake because you're adding 100+ lbs to your Mustang, so you will most likely have to upgrade your suspension.
Mustang Wheel Width:
Increasing the rim size enhances your Mustang's look, and the performance of the car. Buying a wheel that is wider than stock will increase the contact area the wheel has with the road, which gives better handling and cornering.
What different widths do you carry?
AmericanMuscle.com carries rims in 8", 9", 10" and 10.5" widths.
• 8": Stock rims are generally 16x8" or 17x8". If you are looking to replace your wheels, but want to keep the same size rim you already have, these would be the wheels to get.

The biggest benefit to buying wheels the same size as stock is that – most of the time – you will not have to buy new tires.

• 9": A slight upgrade in size that won't offer much of a change in drivability. Requires new tires – unless your Mustang came with 9" rims – but you can get a lower profile, more aggressive stance. Anything from a 245/45 to a 275/40 will fit.

• 10": Combine 10" rims with 9"s in the front to get a staggered look that makes your car look fierce and ready to rumble. Using 10" rims means you can put a 285/35 tire on your 94-04, or a 274/40 on your 2005+ car, giving it a wider looking stance, and better traction off the line.

Note: Available in 18" and 20" rims, these can only be used on the rear of the Mustang. See below for the reason why

• 10.5":Combine 10.5" rims with 9"s in the front for a staggered look that makes people think twice about challenging you to a race. A 10.5" rim gives you the freedom to put a very wide tire on the back end of your car – anywhere from a 275 to a 315!

Note: Available in the 17" rim, and can only be used on the rear of the Mustang. See below for the reason why!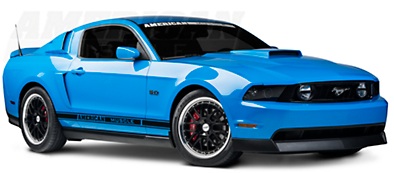 Why can't I put a 10 or 10.5" rim on the front of a Mustang?
The front end of a Mustang is set up in a way that will only allow a 9" rim to be used. The brakes, struts, A-arms etc. are located in or around the wheel well, and the wheel and tire are used to hold them in place. Because of their location, it is impossible to use a wider wheel without a significant amount of rubbing on either the inside or outside.
Why can't I put a 17x10.5" rim on the rear of my 99+ Cobra?
The 99+ Cobras have an Independent Rear Suspension (IRS). Using a larger wheel means that the tire's sidewall will rub the rear IRS subframe-mounting bolt.
However, by changing out the stock .5" factory IRS subframe bolt with a shorter one, you can use 17x10.5" rims.
Mustang Wheel Finishes:
Almost as important as size and width is the color wheel you choose. Choosing the right color means giving your car the perfect look, and adding class at the same time. What are the different wheel finishes you carry?
• Chrome Wheels: Our best selling wheel, they are triple-plated with a clear coat finish. Extremely shiny and reflective, these wheels add class to any Mustang.

• Polished Wheels: Bare aluminum wheels that are polished. These wheels do not have a clear coat, and are duller than chrome.

• Painted Wheels: These wheels start with a basecoat, followed by multiple layers of automotive grade paint, and are finished with clear coat. The painted wheels we carry are our Silver, Black, Anthracite, and White.

• Machined Wheels: These are painted wheels with portions of the aluminum wheel machined down so that it looks like bare aluminum before clear coat is added. Only the face of the wheel is machined. Machined Wheels can be identified by the thin lines cut into the aluminum surface during the processing of the wheel – it looks almost like a CD, but is very hard to detect.

• Hypercoated Wheels: Sometimes referred to as "Black Chrome," "Liquid Metal," or "Gun Metal." They are painted, polished and finished with a metallic clear coat. These wheels change shades of grey/silver in different lights.
Note: Chrome and Polished Wheels require more attention to cleaning to maintain the integrity of the finish.
How much can I lower my car if I get larger wheels?
A Mustang shouldn't be lowered more than 1.5" – 1.75" to maintain good handling and ride quality. The springs we sell will not lower the car more than 1.5" in the rear and 1.75" in the front. As long as you use the best tire fitment for your wheels, then you should not have any issues with lowering your car 1.5" – 1.75".
What is a Deep Dish Wheel?
Deep dish wheels mean that the outside lip is deeper than the lip on a standard wheel, with the face of the wheel set back from the outer edge. Many Mustang owners give their rides a staggered look, putting wider, deep dish wheels in the rear. This gives the car an aggressive look, while also providing more traction during acceleration.
We have deep dish rims in 9", 10" and 10.5" widths, and all have a 2" lip. In the pictures below, you can see that the non-deep dish rim has spokes that are almost at the edge of the wheel. With the Deep Dish rim, the spokes are set back 2" from the outer edge.
FItment includes: • 1979, 1980, 1981, 1982, 1983, 1984, 1985, 1986, 1987, 1988, 1989, 1990, 1991, 1992, 1993, 1994, 1995, 1996, 1997, 1998, 1999, 2000, 2001, 2002, 2003, 2004, 2005, 2006, 2007, 2008, 2009, 2010, 2011, 2012, 2013, 2014, LX, GT, SVO, Cobra, V6, Mach 1, Bullitt, GT500, Boss Mustangs