1999-2004 Mustang Catch Can Uses & Explanations
Facts About 1999-2004 Mustang Oil Catch Cans
• Can prevent oil build up, caused by "blow-by", in the intake

• Separates contaminated oil from the exhaust gases before being recycled back into the intake to be re-burned

• Contaminated oil is safely stored in the catch until it is disposed of during oil change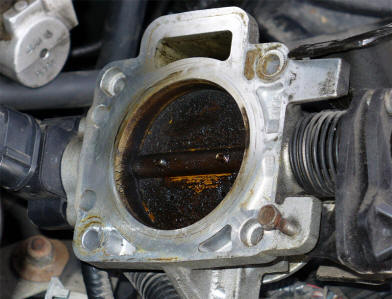 Sticking or Rough Idle
If your 1999-2004 Mustang is running rough or idling poorly, it could be caused by a buildup of gunk in the intake. This gunk is an oily by-product of "blow-by," which can cause your New Edge Mustang's throttle body to stick open, creating a host of intake related problems. An easy and inexpensive way of preventing this nasty oily build up from happening is by installing an Air/Oil Separator a.k.a. Catch can.
The image below is a prime example of what "blow-by" can do to a vehicles throttle body.
What is Blow-by – An Explanation
Blow-by, as mentioned above, is a combination of unburned fuel, exhaust gases and oil that escapes from around the piston rings during the combustion process and enters the crankcase. This oily vapor is vented out of the crank case via a PCV (Positive Crankcase Ventilation) Valve to be re-circulated back into the intake manifold. If these blow-by gases were not ventilated out of the crankcase, a number of issues could develop including a gasket leak (a blown gasket), contamination of your engine oil or even internal rust due to the moisture content.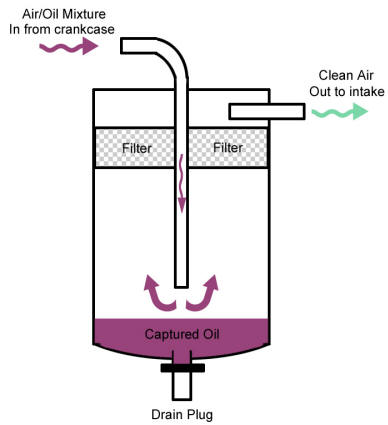 Mustang Catch Cans – The Basics
Now that you understand how important it is to remove blow-by gases from your engine, you might be thinking, "Why not just vent it all into the atmosphere and prevent it from gumming up my intake and solve both issues at the same time?" Well, that would be illegal and the Environmental Protection Agency (EPA) would want to have a word with you. Don't worry - there is a safe, legal and easy way to solve both problems at the same time, a catch can. A Catch Can or Air/Oil Separator does just what its name implies: it separates out the contaminated oil from the blow-by exhaust gases before being recycled back into the intake to be re-burned; thus preventing the used oil from re-entering the system to gum up your engine. The captured oil is safely stored in the catch can until it can be properly disposed of during your next routine oil change. AmericanMuscle carries a wide selection of Air/Oil Separators from JLT, Mishimoto and Moroso for all 1999-2004 New Edge Mustangs including the V6, GT, Bullitt, Mach 1 and SVT Cobra models.
The diagram below illustrates the basics of how a catch can works. The purple arrow represents the air/oil blow-by mixture coming in from the crankcase. It enters the catch can where the oil is collected at the bottom; the air is forced through a media, which filters out additional contaminants before exiting the catch can as cleaned air (green arrow) to be re-circulated back into the intake manifold.
A Mustang Catch Can, Yes You Should
An Air/Oil Separator is an ideal upgrade for any model New Edge Mustang, including naturally aspirated V6 and V8 engines, but a catch can is an absolute must if your engine has been heavily modified or if you're running a forced induction setup like a turbo or supercharger because of excessive blow-by. Hopefully this article has shown you that catch cans are a cheap and effective way to prevent oil sludge from building up in your engine's intake - where it doesn't belong.
FItment includes: • 1999, 2000, 2001, 2002, 2003, 2004, GT, V6, Mach 1, Bullitt, Cobra Mustangs