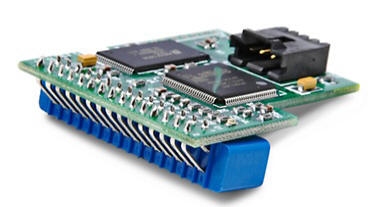 Pro's and Con's of The Mustang Tuning Chip
The 4-Bank Eliminator Chip is an actual electronic device that installs into your car's computer. It can only be used on 1987-2004 cars. It holds a total of 4 custom tunes, plus has a setting for your stock tune, and a no run/anti-theft setting. The selector switch can be located anywhere in your car, a common place is loose in the glove-box. For a professional look and easy access, one of our custom bezels can be used. The switch is great for people that need the ability to quickly change between tunes such as nitrous users and drag racers. To edit tunes or add tunes the chip must be removed and sent back to us or brought to any SCT dealer.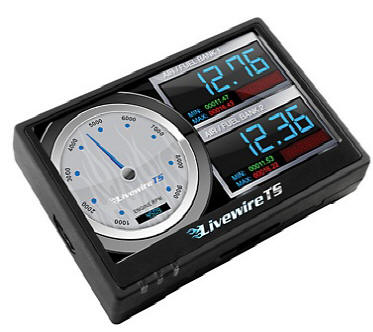 Pro's and Con's of Mustang Handheld Tuning Devices:
The SF3 Strategy Tuner and the SCT LiveWire are handheld units with LCD displays that are used to flash, or overwrite, the existing tune on your car's computer. They hook up to your car's ODBII port located under the dash on the driver's side of the car. They hold 3 Total Custom Tunes, and the first time you use them, they will download your car's stock tune into a 4th slot for safe keeping so you can return your car back to stock at any time. The unit "VIN Locks" to your car so they can only be used in the first vehicle they were used in. They cannot be unlocked without first returning the original car back to the stock tune. You will have the ability to edit certain parameters directly on the unit such as +/-10% on your A/F ratio, +/- 10 on your Final Spark Value, Gear Ratio, etc. which can be great for racers at the track and customer's with wide-band O2 sensors. New tunes can be emailed to you instead of having to send back the entire handheld tuner for reprogramming. Switching between tunes can take several minutes, so you are not able to switch "on the fly".
Custom vs. Strategy Mustang Tuners:
A strategy tuner such as the Predator contains generic tunes designed for a fully stock car. They have a limited amount of user adjustability that allows experienced users to help dial-in A/F ratio, spark, etc. for mild bolt-on modifications and varying conditions. Some feature selections for common MAF and injector changes, but can run into complications due to subtle variances in the car's configuration. A custom tuner or chip such as the Eliminator or X3 PowerFlash or LiveWire allows the tuner complete adjustability of about 1000 to 3000 different variables (depending on the year/model) in the car's computer to accommodate for modified cars. This allows tunes to be created directly for a car's specific configuration, and is the only way to tune heavily modified cars. Handheld units such as the X3 PowerFlash, SF3 Tuner, or the SCT LiveWire Tuner allow the customer to make the same end-user adjustments that a strategy tuner allows to accommodate for varying track/weather conditions etc., but they are starting from their custom tune instead of the generic tune so the end tune result is more precise.
A Note on Fuel Octane:
You should always order a tune for the highest octane available in your area. The higher the octane the more power and gains you will receive. For example a stock 2001 5-speed GT might gain 2-3 horsepower on an 87+ tune but 17 horsepower on 91+ and over 20 horsepower on 93+ octane tune. All three of these tunes will have the engines running more efficiently, but the dyno results will be very different. If you are worried you might get stuck because you cannot find the right fuel, order more than one tune, one for 87+ Octane to use in emergencies, and then a performance 91+ or 93+ tune. Now automatics are a slightly different story, as they will receive a huge bonus from the transmission being tuned, so even tuning with 87+ is worth it, but actual good horsepower gains will still not be achieved without a premium fuel.
A Note On Gas Choices
All brands of gas are not created equal! You should always use a quality name brand gas for the best results and horsepower gains such as Sunoco, Exxon, Mobil, or Shell. Low quality generic brand-x fuels, convenience mart, and discount wholesale fuels could cause pinging in a tuned car. Saving 5 or 6 cents a gallon at the pump of a low quality gas station will cost you in the long run. Studies have shown that even in non-tuned cars that gas mileage from 2 gas stations right next to each other can vary by up to 60 miles per tank!
A Note on Mustang Speedometer Calibration:
Mustangs after 1999 use computer controlled gauges and can be calibrated with the tunes for gear and odd tire size changes. Pre-1999 Mustangs use a mechanical speedometer so the car's computer has no control over the speed reading. A rotating cable runs from the transmission into the back of the speedometer. The tuners cannot be used to calibrate for gear changes on these cars. You can however calibrate for gear changes by replacing the speedometer driver gear at the transmission end of the cable. They are available from most transmission shops, or online at http://www.steeda.com or http://www.50resto.com for about $10-20 and are color coded (for the Mustang transmission type and gear ratio) and are easy to replace.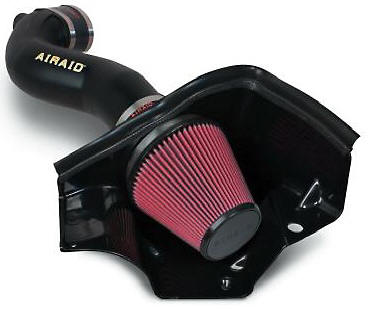 A Note On 2005+ Mustang GT Cold Air Intakes
On 2005+ GT Mustangs we must have the actual brand and model of the cold air intake being used. The 2005+ uses an advanced PowerPC processing unit instead of the old PCM systems on 2004 and older mustangs. The new system is VERY sensitive to airflow changes and most 2005+ cold air intakes use the stock MAF electronics but change the actual MAF housing size greatly distorting your MAF Transfer Function. This is why you cannot tune for cold air intakes on 2005+ Mustang GT with a strategy tuner such as the Predators.
What We Need When You Place an Order for a Custom Tuner:
• Year and Model of Car

• Computer code (See Computer Code Tutorial)

• Octane of Gas (87,91,93,GT100,etc)

• Rear Gear Ratio and Transmission (Automatic/Manual)

• Cold Air Intake or Stock Intake (2005+ MUST Have Brand Name and Type)

• MAF & Injector Size

• Headers or Stock Manifolds

• Mid Exhaust(Stock/H/X-Pipe Catalytic Converters or Not)

• Mufflers or Straight-through/Glasspack Style Exhaust

• List of all other PERFORMANCE modifications (Including Non-Standard Tire/Wheel Sizes)
Mustang Tuning Add-On Options:
Two-Step Box Rev Limiter RPM Range/MPH Trigger (Add-on Option 1999-2004 Manual Only, Uses One Tuning Bank): This allows you to set one RPM limit for when the car is not moving, and then have the full RPM range enabled when it is moving. This is desirable for drag racing so you can pay attention to the "Christmas Tree" and not the tachometer. Please specify where you want the 1st step set at when you place your order. If you do not we will use our best judgment and set it at where we think is best for the modifications and car type listed. Valet/Friend mode (Requires additional tune 1999-2004 Only): This option lets you set the RPM Range/MPH Cap when someone else is driving your car. Be sure to specify where you want the limit set.
What Mail Order Can Not Tune For:
Certain modifications cannot be safely tuned via mail-order style tuning. They require the use of a dyno and wide-band O2 sensors or a "sniffer" to correctly dial-in your A/F, etc. (In these cases please go to http://www.sctflash.com to locate a dyno tuner in your area.) Non-Tunable Examples:
• Non-Mustang Cars

• Mustangs Before 1987

• Carbureted Mustangs

• Non-Stock Type FI

• Speed Density Systems

• Non-Stock Heads (Stock Style PI Head Swaps are OK)

• Non-Stock Forced Induction (This includes ALL aftermarket superchargers and turbos. Stock Cobra OK)

• Nitrous tunes OVER 100 Shot

• Non-Factory Style Crate Motors (Direct replacement style OK)

• Major Engine Work (Compression Ratio Changes, Stroking, Boring, Heads)

• Non-Gasoline Race Fuels (Alcohol, Nitro Methane, Rocket Fuel, Moonshine, etc)
FItment includes: • 1979, 1980, 1981, 1982, 1983, 1984, 1985, 1986, 1987, 1988, 1989, 1990, 1991, 1992, 1993, 1994, 1995, 1996, 1997, 1998, 1999, 2000, 2001, 2002, 2003, 2004, 2005, 2006, 2007, 2008, 2009, 2010, 2011, 2012, 2013, 2014, LX, GT, SVO, Cobra, V6, Mach 1, Bullitt, GT500, Boss Mustangs