Is a Bigger Throttle Body For my Mustang Better?
Installing A Bigger Throttle Body on Your Mustang – The Facts
• More airflow caused by a bigger throttle body can increase power and improve throttle response

• Mildly modified/stock Mustangs do not have enough air flow to fully benefit from the largest throttle body, and consequently, can reduce throttle response

• With an upgraded throttle body, it is not necessary to invest in an intake spacer

• It is not necessary to recalibrate your computer with a custom tuner with a new throttle body, but to fully utilize your mods, it is recommended to purchase a custom tuner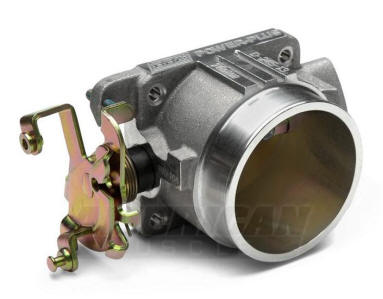 Mustangs With Bigger Throttle Bodies - Performance Benefits
The more airflow, the better your engine breathes and the more power your Mustang will produce. By opening up the bore size from factory to an
aftermarket throttle body
, not only will power increase but the throttle response will improve as well for an upgrade you will feel! However, if your Mustang is stock or mildly modified, your engine doesn't flow enough air to fully benefit from the largest throttle body available and can consequently hurt your throttle response.
Take a 1996-2004 naturally aspirated GT that has mild mods for example. The 70mm throttle body, shown to the left, would be the best option for HP and throttle response gains. Even if you plan to add several additional bolt-on mods, the 70mm would be plenty big enough. It is larger than stock to increase air flow over the stock restrictive unit, yet not too large that it results in lost velocity and ultimately decrease mid-range rpm gains.
If you have a heavily modified Mustang or Forced Induction, then a 75mm throttle body or larger would be your best bet. A BBK 78mm throttle body is one of the most popular options. It incorporates a high flow intake plenum and is a great combo to compensate for the increased air flow from the engine.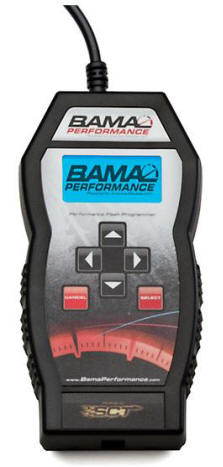 The Truth about Mustang Throttle Body Spacers
Plain and simple – if you upgrade to a larger throttle body, you should not use a spacer as well.
Intake spacers
are intended for use with the stock throttle body to increase fuel mileage and throttle response. The bore on the spacers are matched to the bore of the stock throttle body. If you were to couple a spacer with an aftermarket throttle body, you would essentially open up the air flow, but immediately restrict it again by using the spacer. So, the only time you want to use a spacer is in combination with your stock TB.
Will my Mustang Need a Custom Tune?
Another great debate in the performance world! When you upgrade your throttle body, it is not required to recalibrate your computer with a custom tune. That being said, we highly recommend getting a
custom tuner
to fully utilize not only your intake mods, but all of your upgraded parts. Our
Bama Tune Specialists
can incorporate the larger throttle body into your tune files to ensure you get optimum performance from your upgrade. The custom tune will let your Mustang's computer (ECU) know there is increased air flow and will correct the air/fuel ratio.
If you are looking for your next bolt-on mod and don't know which direction to take, upgrading your throttle body is a very common and popular route to take. Just make sure you think about what your ultimate plans are for your Mustang when deciding which TB best suits your application!
FItment includes: • 1979, 1980, 1981, 1982, 1983, 1984, 1985, 1986, 1987, 1988, 1989, 1990, 1991, 1992, 1993, 1994, 1995, 1996, 1997, 1998, 1999, 2000, 2001, 2002, 2003, 2004, 2005, 2006, 2007, 2008, 2009, 2010, 2011, 2012, 2013, 2014, LX, GT, SVO, Cobra, V6, Mach 1, Bullitt, GT500, Boss Mustangs