Best Interior Mods for your 1999-2004 Mustang
Are you getting that need to change / need to mod something itch? If you have a New Edge Mustang, your interior probably hasn't changed a whole lot since it came off the assembly line. Maybe a few minor updates here and there like new glow gauges or maybe some combination of interior billet accessories. They are all great updates, but there comes a time when you may feel the need for something more. Upgrading your Mustang to look like a muscle car inside to match the performance "muscle" under the hood is a no brainer!
Interior Mod Options for Your 1999-2004 Mustang
• Bullitt Pedal Covers—Gives your Mustang a real race car feel, and only takes a half-hour to install with basic hand tools

• Shifter Knob—Adds race ready, eye-grabbing style, and improves time between shifts

• Dual Gauge Instrument Bezel—Allows you to keep a close look on whichever engine specs you wish
Interior mods are simple, yet eye catching
One of the most popular and easiest products to start your interior upgrade would to install a set of Bullitt Pedal Covers. AmericanMuscle has them available for either manual or automatic Mustangs and they really give you that race car feel like the ones originally found on the 2001 Bullitt Mustang. They only take about half an hour to install with basic hand tools and can be completed right in your driveway.
Your 1999-2004 Mustang's stock shifter is boring, change it.
Another simple mod would be to add a new shifter knob. It adds a bit of race ready eye-grabbing attention to your interior and makes your Mustang more fun to row through the gears with quickly. AmericanMuscle carries several different options for both the 5-speed and 6-speed manual Mustangs, as well as an option for the automatic Stangs out there. A few of our most popular manual transmission knobs are shown above, the retro style knob that looks similar to a classic cue ball and the modern styling of the FR shift knob. Installation could not be any easier – unscrew your dull OEM knob and screw on the new one.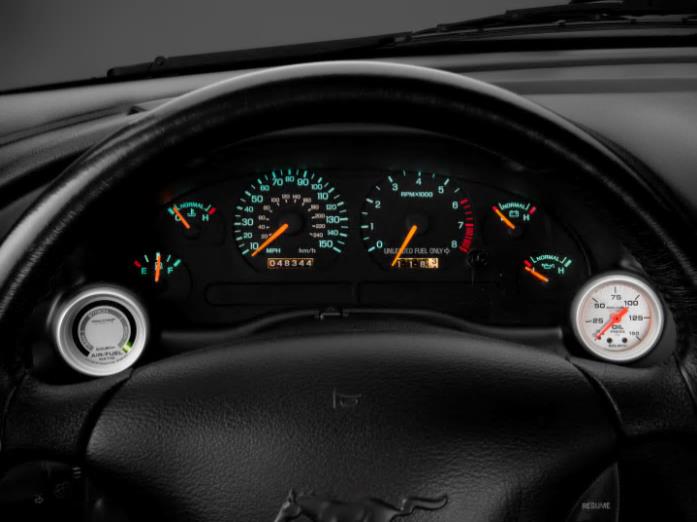 Interior gauges let you style your Mustang & monitor performance
Another race inspired visual, that would also help you to better monitor your performance mods at the same time, would be to upgrade to a Dual Gauge Instrument Bezel. It accepts two standard 2-1/16" gauges, which are sold separately, that allows you to keep a close watch on whichever engine specs you wish, whether that be a boost/vac gauge for your forced induction or an AeroForce gauge that lets you display two different parameters at one time. Just be sure to order the correct bezel as the bezel for 1999-2000 differs from the 2001-2004 model.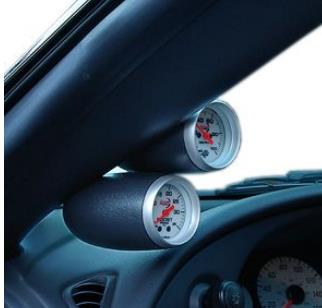 You can combine interior gauge pods
Another route, or an additional route if you want or need more than two gauges, would be the dual gauge pillar. It replaces your stock A-pillar and puts the gauges right where you can easily see them at a glance. They accept the same standard 2-1/16" gauges and will provide a totally different look to your Mustang. These pillars vary by year as well so be mindful of fitment that when making your purchase to ensure you get the correct one. Using these products will be a great start to your Mustang's transformation from normal sports car to sick muscle car that you'll be able to both see and enjoy while driving. Some other products to consider would be a pair of racing seats, a new style steering wheel and a rear seat delete to round out the look and feel to your Stang. Keep an eye out as we'll be taking a closer look at those modifications in another article!
FItment includes: • 1999, 2000, 2001, 2002, 2003, 2004, GT, V6, Mach 1, Bullitt, Cobra Mustangs