Facts about Upgrading to a Competition Style Throttle Body:
• Competition style throttle bodies feature no hose fittings or factory hook-ups, simplifying the throttle body's role

• On a stock setup, with the computer trying to make too many changes, your Mustang will be slowed down in an attempt to keep everything safe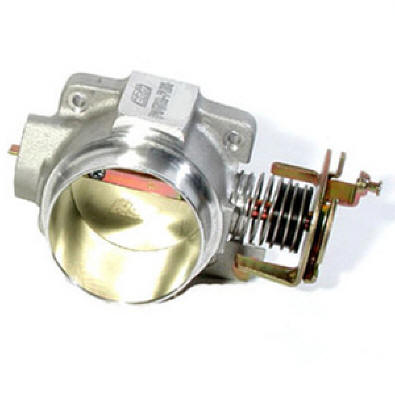 Why go With a Competition Style Mustang Throttle Body?
When you look at most street driven cars, attached to the throttle body are several coolant or air/vacuum lines and hoses running to and from it. This is a way for the car to gain more information on the air temp, the amount of air passing through and what position the throttle is at. However, on some vehicles that are heavily modded, or using forced induction, this can be a problem.
Addition by Subtraction
Too much information on a vehicle that needs a relatively specific and consistent air/fuel ratio or that is intentionally being set up super rich/lean for racing may cause issues. Also, when converting from fuel injection to a carburetor set up, there is no need for the extra hoses and their feedback. So, what to do? Scrap your factory throttle body for a competition style.
How Does a Competition Style Mustang Throttle Body Work?
A competition style throttle body operates in the same manner as stock throttle bodies and installs generally in the exact same way. With a spring-loaded, cable-driven side car attachment (for Mustangs) for cruise control and throttle cables it still bolts right to the intake so you do not need special tools. However, it will not have any of the attached hose fittings or factory hook ups, so if exposed on the block side, you'll need to plug them. This will keep the information relayed to the computer (if still fuel injected) or make the set-up of a carburetor much easier, especially on super changed and turbo style cars.
A Mustang's Computer & Your High Performance Throttle Body
Because the computer is trying to make too many changes, it will actually slow the car down in an attempt to keep everything "safe" while getting as close as it can to meeting the load demand if a stock throttle body is left on. This is not intended as a bolt-on due to the new tune that is always going to be required.
FItment includes: • 1979, 1980, 1981, 1982, 1983, 1984, 1985, 1986, 1987, 1988, 1989, 1990, 1991, 1992, 1993, 1994, 1995, 1996, 1997, 1998, 1999, 2000, 2001, 2002, 2003, 2004, 2005, 2006, 2007, 2008, 2009, 2010, 2011, 2012, 2013, 2014, LX, GT, SVO, Cobra, V6, Mach 1, Bullitt, GT500, Boss Mustangs