Converting a V6 Mustang to Dual Exhaust
It has been said that there are two ways to convert your V6 exhaust--the right way and the wrong way. While we agree that there is the easy way and the hard way, we think it is better to give you all the information and let you decide what is right for your V6. That being said, here are the two ways you can convert your V6 Mustang to a dual exhaust.
• To switch to a dual exhaust setup, you'll need to replace the restrictive factory Y-pipe with either an X-pipe or H-pipe

• Moving up to a dual exhaust will flow the exhaust gasses more efficiently, giving the car a boost in power

• Depending on which dual exhaust kit you choose, the sound of your V6's exhaust can be fine-tuned to sound much more aggressive and throaty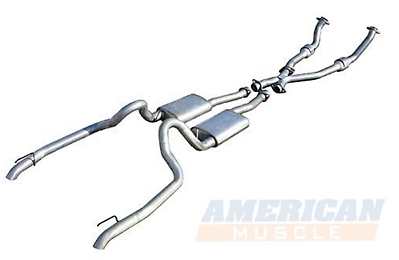 1. Use a V6 Mustang Dual Exhaust Adapter Kit
Using a dual exhaust adapter kit requires cutting your Y-Pipe right after the catalytic converters and welding the adapter into place. The adapter acts as a splitter, allowing you to bolt any GT catback for your year Mustang right up to it, giving you the look of a true dual exhaust.
The downside to this is that using this kit does not actually give you a true dual exhaust. It gives you the look and sound of a GT exhaust, but you will only see minor performance gains. The 1994-1998 Conversion kit is slightly different than the 1999-2004 kit, so be sure to select the kit that's built for your car.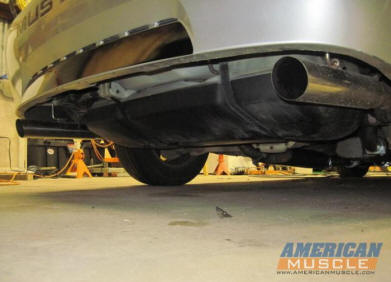 2. Use a V6 Mustang H-Pipe or X-Pipe
The second option is to use a V6-specific mid-pipe. Designed to eliminate the single-pipe design of the factory Y-Pipe, these bolt right up to the factory manifolds and give you a true dual exhaust. With this option, you can use any GT catback for your year Mustang.
Because this conversion gives you a true dual exhaust, you will have noticeable performance gains. Your Mustang will be able to support more horsepower, though how much of a horsepower gain you will see depends on whether you keep your cats or go for an off-road set-up.
Of the two options, this is the easiest. There is no precision cutting or welding, and it can be done by anyone with basic tools and knowledge.

Note: AmericanMuscle.com recommends professional installation of all exhaust parts.
Other V6 Mustang Dual Exhaust Recommendations
If you have a stock V6, there are a few things we recommend to keep you from losing low-end torque and having a sluggish car.
1. Get a mid-pipe with catalytic converters. True, you won't see as much of a horsepower gain but, using a mid-pipe with cats creates enough backpressure to keep your low-end torque drivable.

2. Use a Chambered Muffler (such as Magnaflow, Steeda, Pypes), instead of a straight-through muffler.
Note: If you really want to use an off-road mid-pipe on a stock car, switch to steeper gears (4.10s or higher). This will get you into your power band faster, and the low-end torque difference will be less noticeable.

TIP: If your V6 has forced induction or nitrous, it is okay to use a straight-through muffler and an off-road mid-pipe.
FItment includes: • 1994, 1995, 1996, 1997, 1998, 1999, 2000, 2001, 2002, 2003, 2004, GT, V6, Mach 1, Bullitt, Cobra Mustangs