Aftermarket short throw shifters give your Mustang a noticeably better shifting feel and quicker shifts from gate to gate over the original manufacturer's shifter. A shifters' throw is how far the shifter moves between gear selections and Ford has built usable shifters into their Mustangs. However, most stock shifters are a compromise of performance and NVH (Noise Vibration Harshness) reduction and their objectives tend to lean towards the low NVH side. Choosing an aftermarket short throw shifter for your Mustang will improve your driving experience tremendously and provide you with quicker, smoother shifting every time. If there's one mod besides gears that you will notice every time you drive, it would be selecting an aftermarket shifter in lieu of the stock piece. Short throw shifters provide many benefits in all sorts of driving scenarios, giving you a new, custom look and feel that puts a nice touch on your Mustang's interior.
What's the Advantage?
With a short throw shifter, the distance the stick must travel between each selected gear is reduced. This means that the gears will fall into place with greater fluidity. The shorter distance and positive feel will improve your times in both acceleration and deceleration.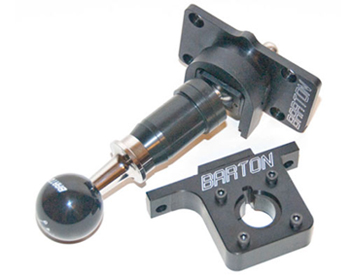 How does it Work?
A short throw shifter modifies the geometry of the shifter so that the travel distance of the shift lever is reduced. It moves the pivot point higher up the shift rod causing you to move the shifter less distance, hence the shorter throw. Most short throw shifters include a shorter shift handle so that the reduced action is complemented by the height of the lever. Some people find the look of a shorter shifter too much of a departure from stock and to compensate, some manufactures have engineered the fulcrum point so that it has a shorter than stock travel, yet retains the same stick height. That said, many enthusiasts consider the trade off in stick height worth the performance gains.
The tighter and more controlled shifting characteristics add a level of precision when stepping through the gears that longer shifters just cannot offer. This is because the short throw shifter removes that jerky off track shift that comes with the original manufacturer's equipment. You will feel ultimately more connected with your car and driving with this enhanced control and precision.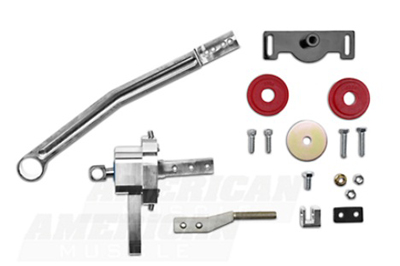 Ok, They Perform Better, But Will They Last?
Short throw shifters can also offer more durability with less all around wear and tear on your manual transmission. They can reduce shift fork damage by removing the tendency to miss shifts from a sloppy stock shifter and some include positive stops to prevent the lever from traveling too far. Preventing transmission problems makes an upgrade to an aftermarket shifter even more valuable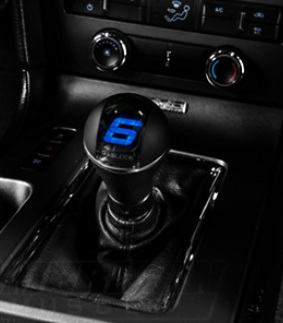 Personalizing Your Short Throw Shifter
Most short throw shifters allow a wide range of choices of shift knobs to further personalize the interior appearance of your Mustang. When you wrap your hand around a shift knob you want to feel a perfect fit. With the variety and types available, there is a shift knob that fits any hand and any style.
Retro style shift knobs are a popular choice for all generations of Mustangs. These round knobs come in four, five or six speed varieties and have a choice of colors plus the classic; white, black, satin brushed finish or chrome. An alternative to a round style are the digital shift knobs, such as Raxiom's digital shifter. The digital shift knobs are the ideal for those looking for a more unique and different look. The knob has a bright LCD digital display that shows what gear the car is currently in. They even have a choice of 256 color LCD display which will work perfectly in the newer Mustangs that have the "My Color" ambient lighting feature.
Other options include Billet T-Handles. These knobs will fit just about any year Mustang as well. Drivers that enjoy a lot of leverage opt for the pistol grip shift handles or the more common old school T-shaped handles. Although most racing school instructors do not recommend Pistol or T-handle grips for most racing scenarios.
When considering aftermarket parts for your Mustang, short throw shifters are a good early modification to make. They have the style, the enhanced driving performance and can offer a longer life for your transmission. You can install them in your own garage easily, or have them installed at a professional garage. Either way you will most likely be really glad you made this upgrade.