Fox Body Hoods - Restoration or Replacement?
Of 3 different cars brought to a body shop asking about paint work and whatnot, the body guy always said a new hood was in order, as restoring the original was not worth the time or money as the rust would inevitably return. Now, if a body guy is saying that replacing the hood is just as, if not more, cost effective than repairing the old hood, this must mean that aftermarket replacement hoods can't be too expensive. The good news is, this is in fact true!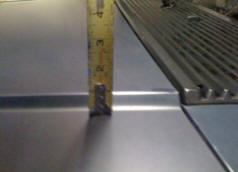 Stock Style Fox Mustang Hoods
The OEM hood from Ford is made of steel and features a sleek 1" cowl. Stock replacement Fox Body hoods come with the precisely the same specs. Replacement hoods are made of durable steel (~46 lbs) and are cut to be a precise fit with the factory latch and hinge components. So if you're after the factory Fox look, replacement OEM-style hoods can go for as little as $350, which at the end of the day really isn't bad at all. A good paint job later and these hoods ought to be good for another 25+ years!
Aftermarket Fox Body Hoods
Typically, there are two major styles in the aftermarket Foxbody hood world; cowl induction style and Mach 1 style. Both not only offer a distinct visual appearance, but there are added 'performance' advantages to be had over a stock hood. First off, it should be noted that aftermarket-style hoods are most commonly made out of fiberglass, so gone are thoughts of rust and corrosion! Secondly, they can offer slight weight advantages over their steel counterparts. Let's examine each style.
Cowl induction:
Cowl induction hoods basically follow the same aesthetic approach as the stock hood, except they typically have a much greater cowl height. As mentioned, the stock cowl height is 1", whereas aftermarket cowl induction hoods start at 2.5" and can purchased up to 4"! Now, there is a performance advantage to be had with this, so to speak. If you have a modified engine, or are planning on building one, many intakes will not fit under the stock hood and thus require some more clearance. There are two options to deal with this problem. 1) Drop the engine via lower engine mounts or 2) Use a hood with more clearance. Option #1 is pretty limited in terms of potential clearance and requires a decent amount of work. Cowl induction hoods offer you the clearance you need, and give the car a very aggressive look – something that is a must for any muscle car!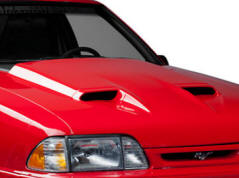 Mach 1 style:
Mach 1 style hoods are a replica hood reminiscent of the early 70's Mustangs. Also featuring a raised cowl, Mach 1 hoods also feature 2 functional air scoops (ram air effect? Hmm… definitely reminiscent of the seventies!) before the cowl tapers to a close. The Mach 1 hood gives a major bump to overall-muscle-car look and also leaves more room in the engine bay to house something a little more volatile than a stock 302.
Mustang Hood Accessories
The last thing to examine is hood accessories. No, we're not talking hand bags and clutches (although, maybe we can get someone material on those too, if interested…). Rather, we're talking about hood pin kits. If you were lucky enough to grow up around cars in the sixties and seventies, you know exactly what these 'hood pins' are. If not, here is an attempt at providing some explanation and direction.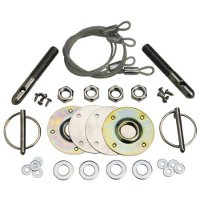 Hood Pins:
Unfortunately, to install a hood pin kit, you actually have to drill through the hood of the car. If you don't want to do this but still love the look, you are in luck! There are two kits available. You have the real deal, which requires drilling through the hood to install, or there is a purely aesthetic kit. The aesthetic kit sticks on top of the hood via 3M automotive adhesive, no drilling necessary. However, be it known that the latter kit is aesthetic only, and does not actually latch the hood down.
Making The Choice Between a Stock or Aftermarket Fox Body Hood
When it comes to choosing a hood for your Foxbody, the first question you should ask is "do I or will I have a modified engine?" If the answer is yes, certainly first do some research to verify the dimensions of potential intake manifold combinations. It would be a real bummer to pick up a sleek OEM hood, have it painted only to find out it won't close it over your hot rod motor! With that out of the way, the decision comes down to a preference of style. The cowl induction and Mach 1 hoods offer a formidable, aggressive look whereas the stocker retains the smoother factory lines.
FItment includes: • 1979, 1980, 1981, 1982, 1983, 1984, 1985, 1986, 1987, 1988, 1989, 1990, 1991, 1992, 1993, LX, GT, SVO, Cobra Mustangs