How to Replace a Fox Bodyís Convertible Top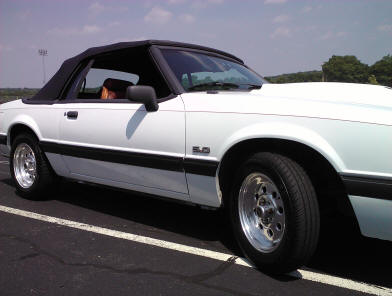 Can I replace my Fox Bodyís convertible top on my own?
A project such as replacing your convertible top is no easy task for a non-professional, not to mention the amount of time and patience required for correct fitment. Years of exposure to sunlight and weather can sure take a toll on your convertible top and eventually initiate leaking leading to countless other unavoidable repairs. It is definitely recommended that if you do decide to tackle this one on your own that you have a garage or some kind of cover as you shouldnít plan on having it all together in one day. In addition this is definitely a project that helps to have more than one person due to the stretching and fitting of the fabric. On the other hand, if you decide to leave it to the professionals, donít be surprised if the bill adds up to over 1000$ for parts and labor. If you do take it on your own learn the correct way with available install guides.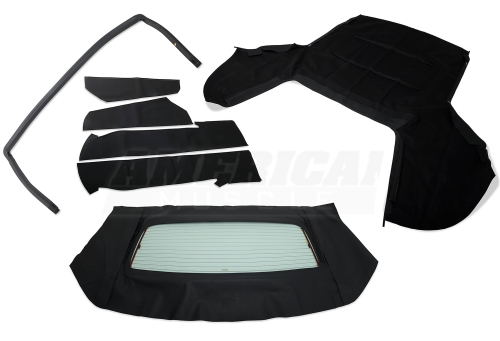 What is involved in replacing a convertible top on a Fox Body?
Well, assuming that your convertible frame is in a crack free condition, which isnít always the case, youíre going to need a few things. As itís easier to do many things at once when you have everything apart itís not a bad idea to knock it all out at once. First youíll need to pick a new top kit. Some include rear glass windows with or without tint and plastic windows. Plastic rear windows are easier to install but definitely lose the clean look, with eventual fading in the rear view.
Along with the rear window assembly and top fabric youíre going to need the convertible top pads for both sides which protect the visible outer later from the sharp cast aluminum frame in movement and tight fitments and also provide tension and support to the top. You will also need about 500 staples (aluminum) ranging from 1/4 inch to about 3/8 inch along with a staple gun. A hand staple gun will work but a pneumatic one is definitely recommended. Other tools you may need besides a basic tool kit maybe a staple puller, punch, rubber mallet, ball peen, and duct tape. The duct tape is used to go over all staples for added protection but is not required (it will not be visible). Lastly you will need a form of spray adhesive for vinyl.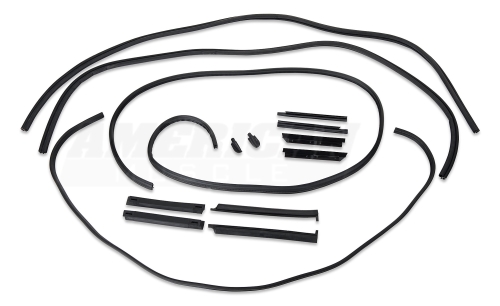 While you replace your Mustangís top, should you stop there?
While itís only an option, now is a great time to replace all the weather stripping on the car, especially the pieces around the top. Why fix the leaks on the top if youíre still going to have rain water running down the inside of your windows? Itís a simple but obvious problem like this that, when not quickly fixed, can cause electrical components not to work properly (most likely your four window motors). There are many weather-stripping kits for your Fox Body Mustang that include everything to reseal those windows and top for a dry interior. It is also a great time to check all hydraulic lines for leaks in addition to the hydraulic reservoir/pump assembly (which can be located behind the back seat). If replacing the fluid be sure to use the correct type (refer to owners manual), which is sometimes a form of automatic transmission fluid rather than standard hydraulic fluid.
Why subframe connectors are essential for convertibles
Besides doing something with that old ragtop, the much recommended subframe connectors are an essential mod for any convertible Mustang pre 2005. The lack of a solid roof greatly diminishes the structural support of a Foxbody's unibody design. Subframe connectors restore this loss in support and can help prevent damage and needed repairs to your convertible top in the future.
FItment includes: • 1979, 1980, 1981, 1982, 1983, 1984, 1985, 1986, 1987, 1988, 1989, 1990, 1991, 1992, 1993, LX, GT, SVO, Cobra Mustangs