How to Style Your Fox Body like a 1993 Mustang Cobra
The 1993 Mustang Cobra will forever be a historic Mustang because it was the first car from Ford's SVT division. With performance improvements and exterior upgrades, the 1993 Cobra solidified its part in Mustang history. Ford packaged their upgraded engine with a fresh new exterior look that was sure to catch Mustang enthusiasts attention. The introduction of a new upper grille and rear tail lights make this car really stand out from the GT and LX Mustangs. Cobra styling has always been important to the history of the Mustang - SVT Cobras are some of the most respected and sought after Mustangs ever built. Styling options and additions from the 1993 Cobra can transform your Foxbody GT or LX Mustang into a jaw dropper.
Style your Fox Body like a 1993 Mustang Cobra
• Front End—SVT Cobra Grille Insert, which reuses your factory bumper and eliminates the need for painting

• Rear End—Upgrade your tail lights to Cobra tail light lenses and the Cobra Rear Spoiler

• Wheels—The most popular are the 10th Anniversary Cobra style wheels

• Additional Upgrades—Full exterior overhaul, which includes adding side skirts, a rear bumper, and fender extensions
How to turn your Fox Body GT/LX front end into a cobra front end
Coming straight at you, the SVT Cobra grille insert is one of the major appearance upgrades for the front of the car. The SVT Cobra Grille Insert is made from factory Ford tooling and materials, ensuring a perfect OEM fit. You can change the look of your boring front end with this simple installation. There are a few cuts to the stock bumper that are required, but since this insert reuses your factory bumper, it'll save you the hassle of getting a new front bumper painted. Another benefit of installing the SVT Cobra Grille is that it opens up the front of your pony and allows more air into the engine bay. Take a look at the huge visual difference the grille makes on the before (left) and after (right) shots shown below.
How to turn your Fox Body GT/LX rear end into a cobra rear end
When you leave someone at the line, they will be able to check out yet another Cobra styling feature. The tail lights from the 1993 Cobra are exclusive and really catch the attention of Mustang owners. Replacing your stock tail light lenses with new Cobra tail light lenses will improve the Mustang's presence as well as safety. The Cobra lights are made from factory Ford tooling, meaning that they are exact reproductions and will fit perfectly. While you are modifying the rear end of your Mustang, the Cobra Rear Spoiler is another extremely popular upgrade. The Cobra rear wing combined with the Cobra tail light lenses will no doubt have the masses admiring your car.
What wheels did the original 1993 Mustang Cobra have?
Cobra styling from any year really stands out from the crowd and puts your Pony in a herd of its own. One of the most popular Cobra style wheels are the 10th Anniversary Cobra style wheels. They come in a 17x9 that will fill your wheel well and are available in a few different color options. Have no fear, these wheels are available in 4-lug for those who haven't opted for the ever popular 5-lug swap!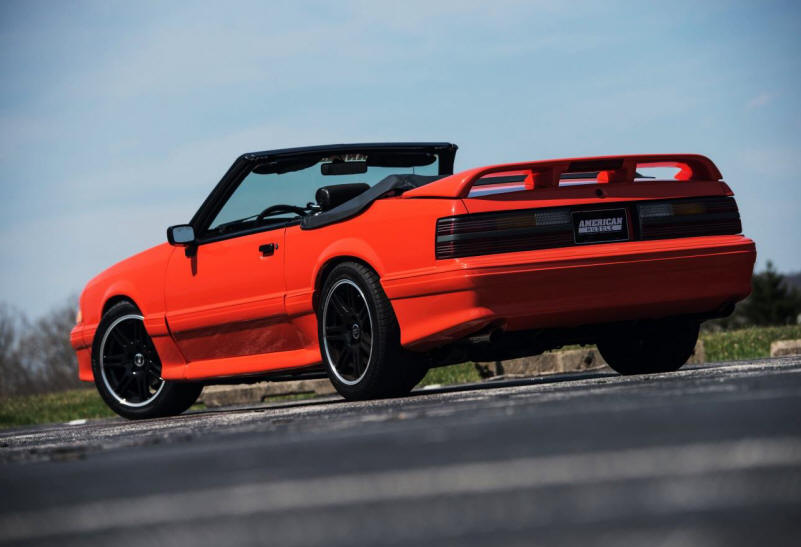 These simple and affordable modifications will bring your Stang attention wherever you take your Foxbody. You can go for the full exterior overhaul by adding side skirts, a rear bumper and Fender Extensions in addition to the products mentioned above. Take your Cobra clone one step farther and get some Cobra engine and suspension upgrades for better performance and handling. At the end of the day, you can say goodbye to that plain GT and LX styling other Mustang drivers still have and give your Stallion a whole new look.
FItment includes: • 1979, 1980, 1981, 1982, 1983, 1984, 1985, 1986, 1987, 1988, 1989, 1990, 1991, 1992, 1993, LX, GT, SVO, Cobra Mustangs