Different Ways of Protecting Your 2010-2014 Mustang's Paint
You can't keep your brand new 2014 Mustang looking new forever, or can you? Sun, wind, rain, snow, road debris, bugs and nature's flying poop machines (birds) all take a toll on your 2010 to 2014 Mustang's finish. Washing and waxing your car will remove the dirt and grime from the paint, but how can you prevent it from getting there in the first place? With protection, that's how. Car covers, bras and protective film are all great ways of protecting your Mustang's finish from the hazards Mother Nature has to throw at it.
Mustang car covers – not just for classics anymore
Most people think that car covers are only meant to be used when storing a beautifully restored classic muscle car away in a garage, but actually they can be used both indoors and outdoors on any year car, including your 2010 to 2014 Ford Mustang.
What purposes does a car cover serve?
A car cover will help protect your Mustang's finish from the harmful effects of the suns UV rays, bird droppings, tree sap, acid rain, and other brutal weather conditions, all of which can break down modern clear coat finishes and permanently mar your car's paint. Most car covers available on the market today are made from specially treated layered materials that feature an inhibitor to prevent the growth of mildew and rot, to further protect your Mustang's finish. Car covers are designed to be water resistant, but no car cover is 100% water proof.
Types of 2010-2014 Mustang car covers
2010-2014 Mustang Car covers are normally available in a universal fit (one size fits all) and in a custom fitted style. The nice thing about custom fit covers is that they are actually designed to fit your specific body style of Mustang and take into account the size and shape of your car as well as the placement of your antenna and side mirrors. This all adds up to a nicer fit and better overall protection.
One of the cool benefits of a car cover is that it can be easily be stored out of site in your Mustang's trunk when not in use.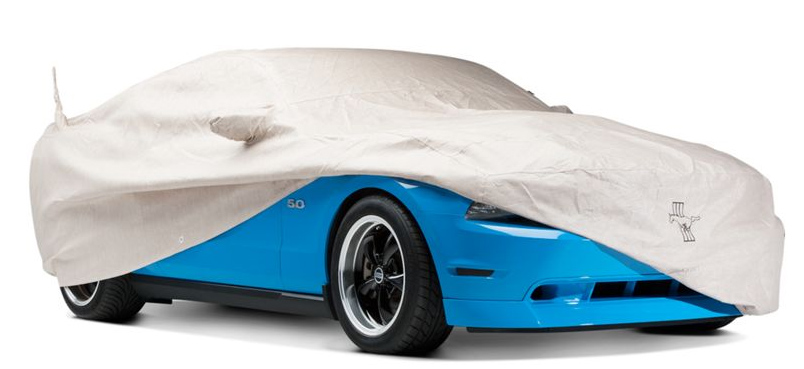 Mustang Bras
Car Covers are great when your Mustang is sitting still in your driveway or garage, but they are no good when you're actually out driving your car. That's when you need a front end mask, more commonly known as a bra.
What does a car bra do?
A bra will protect the most exposed and abused part of your 2010 to 2014 Mustang, its front end. Your Mustang's front bumper and hood sees punishment on a daily basis from gravel, rocks, and other road debris, which is why a front end bra is so important to keep your paint looking showroom perfect.
Bras are designed to attach to the front end of your Mustang with simple Velcro clips, making them very easy to remove and to re-install. They are perfect for when it's time to wash and detail your Mustang's pristine finish. The front end masks available from AmericanMuscle are made from a durable vinyl material that features either a simulated leather grain texture or an embossed carbon fiber style finish. The underside of the bra has a soft, fleece or flannel lined backing that further protects your Mustang's paint from dings and scratches.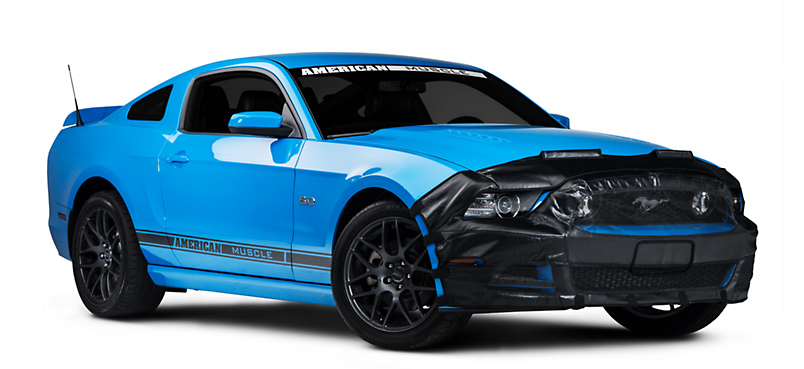 Protection Film for your Mustang – Your invisible friend
Bras are great for protecting your Mustang's front end from the hazards of every day daily driving, but some find that a bra detracts from the clean aggressive lines of the 2010 to 2014 Mustang; in other words, they are just plain ugly. And to those people, I say protective film.
Protective Film is a crystal clear, high quality 3M Scotchgard material that can be applied directly to your Mustang's painted surfaces. It acts like an invisible barrier to guard your finish from bugs, tar, stones, and other road debris and all without the hassles of a traditional automotive bra.
One of the nice things about Protection Film is that it's available pre-cut to fit to different body panels of your Mustang, not just to the front like a bra. Clear Protection Film is available for your 2010 to 2014 Mustang's headlights, hood, front fenders and rear quarter panels; it's almost like a complete, clear car cover.
Another great benefit of paint protective film is that it can be washed and waxed as if it wasn't even there. Once applied to your Mustang, you can just forget about it and still be assured of years of hassle free protection.
Show room new for years to come…
So in conclusion, if you want to keep your 2010 to 2014 Mustang looking show room new for as long as possible, you should really invest in some type of paint protection while it's still new. Whether you choose a bra or clear film for protection from the hazards of every day driving, you should also get a quality car cover for extra defense from the elements when parked at work or at home.
FItment includes: • 2010, 2011, 2012, 2013, 2014, GT, V6, GT500, Boss Mustangs