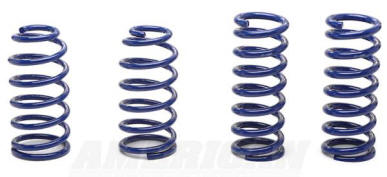 Why invest in Lowering Springs For Your Mustang?
There's more than the obvious reason to invest in lowering spring for your Mustang, that being to improve overall looks and get rid of the stock 4x4 appearance given by Ford. Another significant motivation is to improve handling and make your Mustang feel like the muscle car you thought you purchased! Lowering springs will lower your center of gravity, offering more control while driving and giving your Mustang an aggressive, mean stance.
Should Your Mustang's Springs be Progressive or Specific?
With all the lowering springs available, it can be quite a challenge deciding which springs are right for your driving style. First, you want to choose between Progressive Rate Springs and Specific Rate Springs.
Progressive Rate Springs are daily driver friendly and ultimately offer a comfortable ride similar to stock during normal driving conditions. Another benefit of progressive springs is that they help to achieve higher performance when driving hard. These springs have larger gaps between coils at one end than the other. This allows the spring to compress and firm up to reduce squat during acceleration, body roll in corners and excessive nose-dive under hard braking.
Specific Rate Springs are geared more toward those who don't mind sacrificing some ride quality for ultimate performance. These springs will be firmer at all times, which doesn't allow them to absorb as much of the road as Progressive Springs and offer a bit of a harsher ride even over small bumps. With the SR Performance Springs (79-04), the coils all have the same spacing. This provides tight, responsive handling at a specific rate when coils are compressed.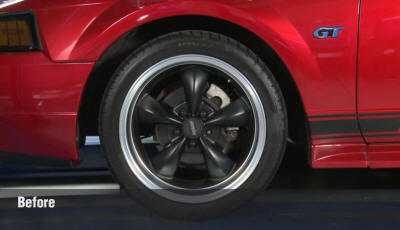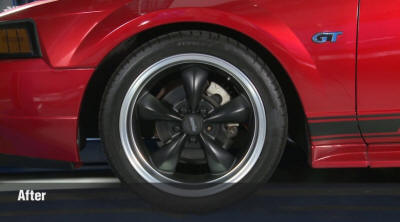 So many choices – find your Mustang's perfect spring:
One thing you want to want to pay close attention to is the fitment for the springs you're considering. Lowering springs are designed to handle and distribute the precise weight of your Mustang evenly and accurately. You want to make sure to purchase a set of springs intended to support and lower your car to the listed specs. Some springs are made to support both coupe and convertible while some others are not; similarly, some springs are designed for both V6 and V8 models, while others aren't. We encourage you to stick with a spring created with your year and model in mind to get optimum results in both handling and appearance. Have a set of our wheels and tires, but wondering if there will be fitment issues? Rest assured all our wheel and tire packages complement up to a 2" drop without a problem!
FItment includes: • 1979, 1980, 1981, 1982, 1983, 1984, 1985, 1986, 1987, 1988, 1989, 1990, 1991, 1992, 1993, 1994, 1995, 1996, 1997, 1998, 1999, 2000, 2001, 2002, 2003, 2004, LX, GT, SVO, Cobra, V6, Mach 1, Bullitt Mustangs