Why Supporting Your Mustang's Chassis is Important
Adding go fast goodies, like a Tune, Pullies, a Cold Air Intake or Exhaust upgrades are a great way to increase the power of your Mustang. What good is all that extra power if your uni-body Mustang twists and flexes preventing that power from getting to the ground? That's why subframe connectors and/or tower braces are one of the first modifications that should be done to any uni-body vehicle especially if you're planning power upgrades in the future.
The Mustang's Uni-body Construction
Ford Mustangs use what is called a uni-body design. This is where the frame and body is a single combined unit. In a uni-body vehicle, the floor pan (the metal underside of the vehicle) is an integral part of the main structure to which all the mechanical components are attach. Alternatively, a body-on-frame design is where the body and mechanical components are attached directly to a ladder-style frame. Check out the two images below for comparison. The upside of the uni-body design is that it's lightweight. The downside is that it's not as rigid as a body-on-frame vehicle so it can begin to twist and flex, resulting in poor handling and loss of drivetrain power. This problem can be easily solved with the help of added suspension mods like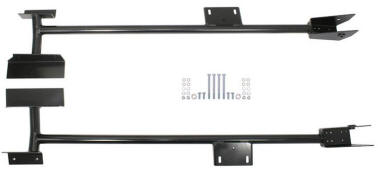 Mustang Subframe Connectors Reduce Flex
Subframe connectors are exactly what the name implies. They connect the front subframe (which houses the engine and front suspension components) to the rear subframe (which contains the rear suspension components) to create a full perimeter frame that increases the overall strength and rigidity of your Mustang.
There are two basic types of subframe connectors:
• Bolt-on
• Weld-in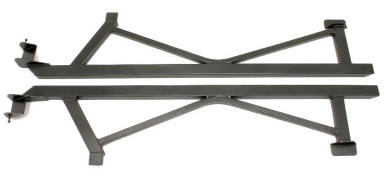 Bolt-on subframe connectors literally bolt into place, making them simple to install in just a couple of hours in your own driveway or garage with basic hand tools. Drilling may be required in some applications.
Weld-in subframe connectors on the other hand are much more difficult to install requiring professional welding and in some cases removal of the interior carpet to prevent a fire. The benefits of the weld-in connectors is that they become a permanent part of the vehicles chassis creating a much stronger structure with no mechanical fasteners that can fail.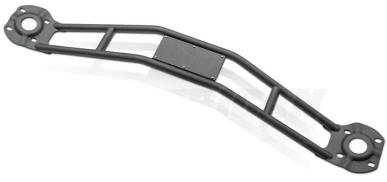 Mustang Tower Braces
Another great way to eliminate unwanted chassis flex and body roll in a uni-body car equipped with a MacPherson style strut suspension is with a strut tower brace, also known as a strut bar.
The MacPherson style strut suspension used on the Mustang features a spring and strut/shock absorber that is bolted into the top of the inner wheel well, known as a strut/shock tower. The issue with this design is that the strut towers are not directly connected to the main chassis rails, which results in suspension and body flex, especially during spirited driving.
A strut tower brace is designed to reduce this excessive flex by connecting the two parallel strut towers together, front or rear. This transfers the load between the two towers during cornering to reduce chassis twist and flex.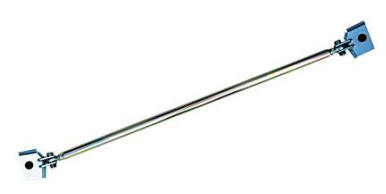 There are two types of tower braces:
Strut Tower
Shock Tower
A Strut Tower Brace is designed to connect your front strut towers together and installs in your Mustangs engine compartment in less than an hour with basic hand tools.
A Shock Tower Brace is basically the same as a strut tower brace, only it's designed to connect the rear shock towers together. It normally mounts in your Mustang's trunk or hatchback, depending on application.
Connect & Strengthen Your Mustang's Chassis
So if you want to get all of the ponies you paid for to the pavement and improve your handling at the same time, then you need to reinforce your uni-body Mustang with a set of subframe connectors and strut/shock tower braces. These upgrades not only benefit track and race cars, but they also benefit daily commuters that enjoy spirited driving.
FItment includes: • 1979, 1980, 1981, 1982, 1983, 1984, 1985, 1986, 1987, 1988, 1989, 1990, 1991, 1992, 1993, 1994, 1995, 1996, 1997, 1998, 1999, 2000, 2001, 2002, 2003, 2004, 2005, 2006, 2007, 2008, 2009, 2010, 2011, 2012, 2013, 2014, LX, GT, SVO, Cobra, V6, Mach 1, Bullitt, GT500, Boss Mustangs