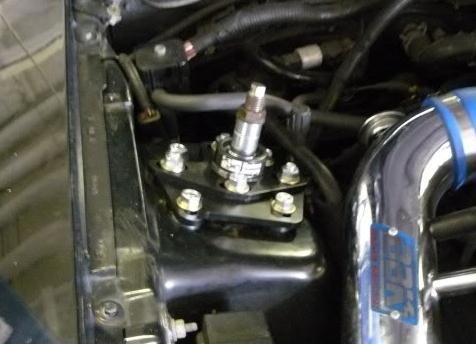 What do caster camber plates do for my Mustang?
Mustang caster and camber plates are one of the main parts used in adjusting the alignment of the front end of your vehicle. The struts are connected to the spindles and the position of the strut will affect the angle and degree in which the tire comes in contact with the road. It is the job of the caster and camber plate to adjust the position of the strut to get optimal placement of the tire. You may be wondering what the words caster and camber even mean. I'll give you a brief description.
What does "caster and "camber" stand for?
Caster is the forward and backward adjustment in the plates. It affects the uppermost point of the steering axis. Cast will not cause uneven tire wear but if not adjusted properly directional control of the steering will be affected.
Camber is the side to side adjustment. This is what changes when the car itself is lowered. Negative camber will angle the top of the tires in towards the center of your Mustang and positive camber point the top of the tires out. Too much negative or positive camber will cause uneven wear of the front tires and premature wear of other suspension parts.
Does my Mustang Need Caster Camber Plates?
If you purchased a set of lowering springs then it is extremely important to get a set of aftermarket caster and camber plates. After lowering your Mustang, you will need a front end alignment and this is where your new caster and camber plates will come in handy. Having a properly setup alignment is important for your safety and the performance of your vehicle. It will improve your steering response for cutting corners and keep your car as straight as an arrow on the highway of drag strip. Lowering your Mustang without the use of caster camber plates not only wears your tires and other suspension parts much more quickly, it will negatively affect performance and handling as well.
Does a stock Mustang need caster camber plates?
If your Mustang is still in stock form and you are less concerned about performance, you'll be fine without caster camber plates. However, if you are performance minded or find that your tires are wearing unevenly, a set of caster camber plates should be on your future mod list. While caster camber plates do not directly add power or huge performance differences, they do allow for your current suspension parts to operate the way they were intended to.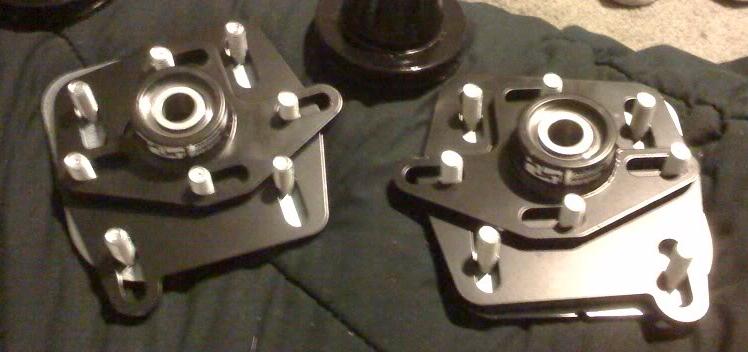 What adjustments do caster camber plates make?
The factory caster and camber plates only allow so much adjustment to be made before they are maxed out. Aftermarket plates allow up to twice as much adjustment over factory. Most manufacturers produce a single plate design but companies like Maximum Motorsports and QA1 offer the caster and camber adjustment on separate plates making it a little easier to fine tune the alignment. Either of these designs are a significant improvement over the factory equipment and will be sufficient in dialing in your caster and camber after lowering your Mustang.
Will caster camber plates fit my Mustang?
Aftermarket caster and camber plates will fit all years 94-04 GT, V6, Mach 1, and Bullitt models but certain products do not pertain to the 03-04 Cobra models. Maximum Motorsports offer different plates for the later Cobras. There are caster and camber plates for all other generations as well.
Installing Caster Camber Plates on a Mustang
Installing aftermarket caster and camber plates can be a bit difficult. Some products require you to drill a fourth hole to mount the plates because certain designs use a 4-bolt pattern such as Maximum Motorsports. Although the installing itself is something a DIY enthusiast can handle, the car still must be brought to a shop for a professional alignment.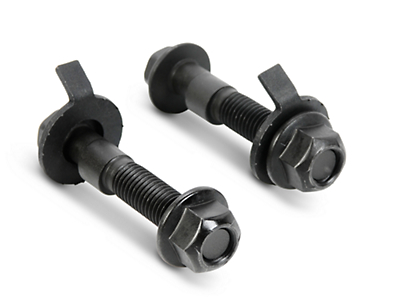 Other notable hardware
If your camber still isn't where you would like it be then consider picking up some Eibach pro-alignment camber adjustment camber bolts. These bolts install as the top bolt in mounting the strut to the spindle and offer and additional +/- 1.75 degrees of camber adjustment.
FItment includes: • 1979, 1980, 1981, 1982, 1983, 1984, 1985, 1986, 1987, 1988, 1989, 1990, 1991, 1992, 1993, 1994, 1995, 1996, 1997, 1998, 1999, 2000, 2001, 2002, 2003, 2004, 2005, 2006, 2007, 2008, 2009, 2010, 2011, 2012, 2013, 2014, LX, GT, SVO, Cobra, V6, Mach 1, Bullitt, GT500, Boss Mustangs