The Difference Between a Mustang's Shocks And Its Struts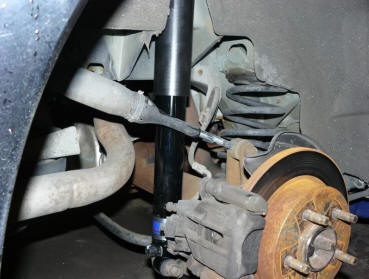 What do a Mustang's shocks And Struts do?
First, it is good to know that the struts mount in the front of the vehicle, while shocks are designed for the rear suspension. The main duty of the shocks and struts is to reduce movement in the body of your Mustang its tires that is generated while driving. To accomplish this, the shocks and struts regulate the movement of the springs. Without them, the tires would bounce around causing the body to experience horrible handling conditions. They keep the car stable no matter what you're doing and allow your car to respond accordingly to your driving. Shocks and struts absorb the pressure from the movement of the wheels and allow your Mustang to stay on the road.
What is the Difference Between a Mustang's Shocks & Struts?
Their purpose are both exactly the same but the only difference is that way they mount. They both absorb the bumps in the road and keep your car stable. Certain things need to be adjusted with strut mounts in order to keep the cars alignment straight unlike rear shocks.

Different Types of Mustang Shocks & Struts
There are mono tube and twin-tube gas pressure design shocks. The twin-tube design has two inner working cylinders whereas mono tube only uses one. Mono tube shocks keep the nitrogen gas and hydraulic fluid completely separate and because these two never mix the foaming problem that occurs in twin-tube shocks is eliminated. Mono tube gives you the performance when you want it and twin-tube usually gives you the most comfortable ride—choosing between them usually comes down to preference and what your end plans are for the car.
Differences Between Adjustable vs. Non-Adjustable Shocks & Struts?
• Adjustable - recommended for customers who race their Mustang and want the ability to control the firmness of their suspension. Adjustable shocks and struts will allow you to fine tune the compression and rebound settings providing the better grip while cornering.
• Non-adjustable - recommended for customers who are looking to upgrade over their factory set-up, and use their vehicle primarily as a daily driver.
Consider Your Budget
When it comes to suspension components there is a huge range of price for products. There are stock replacement parts which are a far more affordable route then say a high performance setup can cost up to a thousand bucks. It all depends on the level of performance you want. Most shocks and struts get a little pricier if they are adjustable which allows you to either soften or tighten up the suspension by externally adjusting them. If your car is a daily driver that sees the track from time to time then this setup might be ideal for you.
FItment includes: • 1979, 1980, 1981, 1982, 1983, 1984, 1985, 1986, 1987, 1988, 1989, 1990, 1991, 1992, 1993, 1994, 1995, 1996, 1997, 1998, 1999, 2000, 2001, 2002, 2003, 2004, 2005, 2006, 2007, 2008, 2009, 2010, 2011, 2012, 2013, 2014, LX, GT, SVO, Cobra, V6, Mach 1, Bullitt, GT500, Boss Mustangs