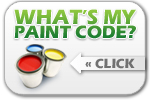 Classic Styling.
Complete the retro muscle car styling of your modern Mustang with a Modern Muscle Design Ducktail Spoiler for classic good looks. This MMD Rear Ducktail Spoiler not only looks great, but is available pre-painted to match your Mustangs factory color straight out of the box!
Painted Here to Match 2010-2014 Factory Mustang Colors.
This Modern Muscle Design Ducktail Spoiler is painted right here, at AmericanMuscle HQ, with the same base coat clear coat urethane paint Ford used on the exterior of your Mustang to match your stock factory color perfectly.
Durable Construction.
Manufactured from acrylonitrile butadiene styrene (ABS) material for its light-weight and superior durability, this MMD Mustang Ducktail Spoiler can handle the bumps and abuse of daily driving while keeping a show-quality appearance.
Direct Bolt-On Installation.
The MMD Ducktail Spoiler is designed to be a direct bolt-on replacement for your Mustangs stock factory rear spoiler, so there is no additional body work or holes to be drilled or filled for a simple straight forward installation.
Application.
This Pre-painted Modern Muscle Design Ducktail Spoiler is designed to fit all 2010-2014 Mustangs including the GT, V6, BOSS, and Shelby GT500 models.
Note: Select your year Mustang to see factory paint colors available for that year
This MMD Spoiler is also available
Unpainted
for those who like to do-it-yourself.
Mustang Fitment:
2010, 2011, 2012, 2013, 2014
Details >>