Sumitomo's 245/45-17 HTR + series tire is an ultra-high performance, all-season radial tire.Optimizes grip and control.
Sumitomo's ultra high performance, all season tread compound gives you better grip, traction, and driving control regardless of the season.
Maximizes water dispersion.
Independent tread blocks with open shoulder grooves work to maximize water dispersion and all season grip. Reverse Pattern Siping provides multiple biting edges for greater wet grip and all season traction.
Excellent anti-hydroplaning characteristics.
Dual steel belts with spirally-wrapped jointless nylon band reinforcements deliver high-speed stamina and predictable handling, while still minimizing weight and right uniformity. Anti-Hydroplaning properties are enhanced by four wide circumferential curvilinear grooves.
Designed to protect expensive rims.
A wheel flange guard on the tire helps to protect your rims from curb scuffing damage.
Best Fit:
17 x 8 Inch Wheels
Features:
Non-Directional tread design
Four, Wide, Deep Circumferential Grooves
Non-Directional Tread Pattern Allows tire rotation without the complexities of directional tires
Chaos Tread Pitch Sequencing Based on five pitch variant minimizes noise for quiet ride
Smooth, Clean Sidewalls For easier maintenance and classic appearance
Specifications:
Hydroplaning Resistance: 8.1
Wet Traction: 8.2
Dry Traction: 8.8
Snow Traction: 6.5
Ice Traction: 5.9
Steering Response: 8.3
Cornering Stability: 8.2
Ride: 8.3
Noise: 8.0
Tread Wear: 7.3
KEY: 10-8.6 Oh Yeah!, 8.5-6.6 Above Average, 6.5-4.6 Average, 4.5-2.6 Acceptable, 2.5-0 Unacceptable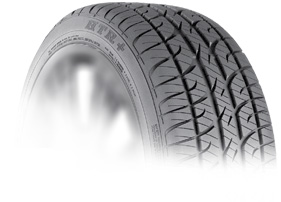 NOTE: These are ultra high performance all-season tires. While perfect for general use and performance onroad use, please see one of our summer specific tires for aggressive driving and track use.
Mounted & Balanced: Please allow an extra 1 to 2 business days on your wheel and tire package for mounting and balancing.
Mustang Fitment:
1979, 1980, 1981, 1982, 1983, 1984, 1985, 1986, 1987, 1988, 1989, 1990, 1991, 1992, 1993, 1994, 1995, 1996, 1997, 1998
Details >>