HTR Z II.
Sumitomo's HTR Z II series tire is an ultra high performance summer tire. The aggressively designed 255/35-20 delivers extraordinary performance in either wet or dry conditions, on and off the track.
Uncompromising traction and handling.
The HTR ZII's extra wide, arched tread blocks deliver uncompromising racing slick-like dry traction and handling. Dual steel belts with spirally-wrapped Jointless Nylon Band reinforcements deliver high-speed stamina and predictable handling, while still minimizing weight and right uniformity. Single Strand Beads help improve wheel fit and retain rigidity under high stress cornering.
Excellent anti-hydroplaning characteristics.
Multi Directional Water Channels push water to the sides and away from the center providing excellent hydroplaning resistance and road grip in adverse weather conditions.
Smooth ride; minimal road noise.
In addition to outstanding performance, the HTR Z II Series Tires deliver a smooth ride with minimal road noise. That way you and your passengers can be treated to the sounds that really count, like the growl of your motor, the whine of your supercharger, or the bass thumping from your Mach 1000 stereo system!
Unique flanged lip protects rims.
The HTR Z II Series Tires also feature a unique flanged lip on the lower sidewall that helps protect your expensive rims from curb damage while parallel parking.
2007+ Mustang & buying wheels with your tires? Click for Important TPMS Info.
Best Fit:
20 x 8.5 Inch 2005+ Wheels
Features:
Wide block shoulder stabilizers strengthen shoulders for maximum dry grip and greater, more predictable, steering response for cornering control.
Full-width, high density steel belts promote stable, predictable handling, smooth ride, even tread wear, and superb uniformity .
PSP Technology optimizes overall casing durability throughout the life of the tire
Specifications:
Hydroplaning Resistance: 8.0
Wet Traction: 8.0
Dry Traction: 9.0
Snow Traction: N/A
Ice Traction: N/A
Steering Response: 8.6
Cornering Stability: 8.6
Ride: 8.2
Noise: 8.1
Tread Wear: 7.4
KEY: 10-8.6 Oh Yeah!, 8.5-6.6 Above Average, 6.5-4.6 Average, 4.5-2.6 Acceptable, 2.5-0 Unacceptable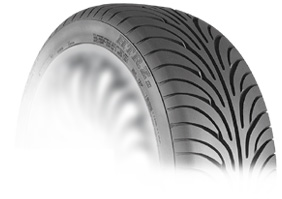 NOTE: These are ultra high performance summer specific compound and tread tires. Use during the summer and warm temperature months will result in superior traction over "all season" tires. Use during the winter months/cold temperatures significantly reduces traction and increases stopping distance as the compound becomes less sticky.
Mounted & Balanced: Please allow an extra 1 to 2 business days on your wheel and tire package for mounting and balancing.
Mustang Fitment:
2005, 2006, 2007, 2008, 2009, 2010, 2011, 2012
Details >>