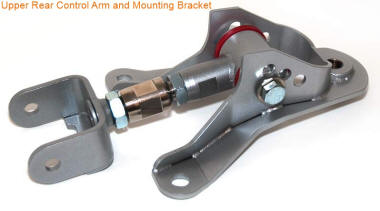 Why Upgrade a 2005-2014 Mustang's Rear Control Arms
• Aftermarket control arms increase traction and better stabilize the rear axle

• Stock control arms have been known to flex and even bend under hard launches

• Aftermarket lower rear control arms are stronger and lighter than stock control arms

• Aftermarket rear control arm relocation brackets correct the vehicles instantaneous center, improving drag strip traction and handling traction
The S-197 Mustang's three link rear suspension is the best-handling, stiffest chassis Mustang every built and a great improvement over the older Mustang's 4 link system. However, the aftermarket is always ready to make your Mustang perform better. After leaving the Ford assembly line there is room for improvement in your Mustang's chassis, especially if you have plans to drag race or lower your car with lowering springs. Drag racing with any type of sticky tire will put severe strain on your factory control arms. In addition, lowering your Mustang will change the entire front and rear geometry of the car, producing several undesirable results if not corrected.

What will aftermarket control arms Do for my Mustang?
The S-197 Mustang's Three link suspension is comprised of one upper rear control arm and two lower control arms. All three control arms have aftermarket options for upgrading their mounting brackets. The purpose of the aftermarket control arms is to increase traction and better stabilize the rear axle. This traction helps plant the rear axle down for drag racing, and road course racing, not to mention the added grip when launching from a stop or roll. There are differences in the purpose of upper and lower control arms, but the overall purpose of both is to improve your Mustang's handling and performance--both upper and lower control arms address different weaknesses in a stock Mustang's suspension. The upper rear control arm is a single link between the top of the differential and the chassis. An aftermarket control arm and mounting bracket will correct your pinion angle if you have lowered the car, or if you plan to drag race the car an aftermarket upper control arm is much stronger and will hold up to the punishment.

Why not use stock Mustang control arms?
The factory upper control arm's rubber bushing and stamped metal construction have been known to flex and even bend under hard launches. If you drop your Mustang more than 1 inch there is a strong possibility you are destroying the rear gear's pinion bearing and seal, leading to a leaky and noisy rear end. Aftermarket upper rear control arms are not only stronger, but also allow for adjustment of pinion angle. This is important for correction from lowering the car or changing to a single piece driveshaft.
The two lower rear control arms or, more technically, the "trailing arms" are responsible for controlling wheel hop and axle steer. And again, the factory units are made from stamped steel and use rubber bushings. This is good for saving money and providing ride comfort but not so great for performance or adjustability.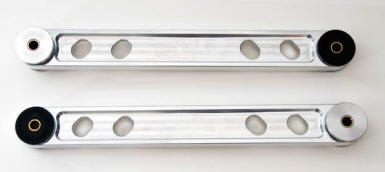 Types of aftermarket Mustang control arms
Aftermarket upgrades are available in many types. Aftermarket lower rear control arms are stronger and lighter than the stock control arms. Some are adjustable and some come with polyurethane bushings while others are all metal rod ends. All stronger and stiffer lower rear control arms will increase your NVH (Noise Vibration and Harshness) in your Mustang's feel while driving. It's also relevant to note, metal spherical rod ends are typically only used in high performance cars. They will increase NVH to levels that may be uncomfortable for a daily driven street car.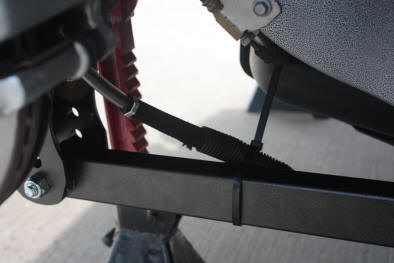 Rear control arm relocation brackets
The aftermarket rear control arm relocation brackets correct the vehicles instantaneous center, improving drag strip traction and handling traction during corner exiting. These bolt-in brackets provide two new mounting locations for correcting your rear suspension's anti-squat characteristics.
Upgrading your Mustang's three rear control arms is a very common and necessary modification if you are going to lower your Mustang, are looking for better launches and ¼ mile times, or you race and compete in your Mustang.
FItment includes: • 2005, 2006, 2007, 2008, 2009, 2010, 2011, 2012, 2013, 2014, GT, V6, Bullitt, GT500, Boss Mustangs