Types of Hoods For 2005-2014 Mustangs
2005-2014 Mustang Hoods- The Facts
• Three different model years of hoods fit the S-197 chassis Mustangs: 2005-2009, 2010-2012, 2013-2014

• Aftermarket hoods improve styling and can provide performance advantages

• Aftermarket hoods can be taller than factory, have some type of scoop, or can vent heat from the engine compartment

• Aftermarket hoods typically weigh must less than factory hoods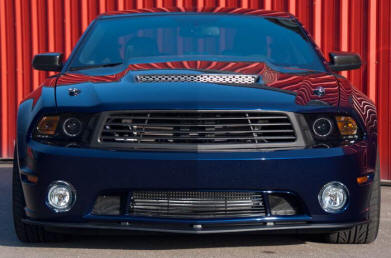 What Hoods Fit on my Mustang?
There are three different model years of hoods that fit the S-197 chassis Mustangs—The 2005-2009 Model years, the 2010-2012 Model years and then the 2013-14 model years. It can be argued that it's a bit of a waste for Ford to change the design for three model years and then change it again for another three model years. Regardless, that's just what Ford chose to do and the Mustang aftermarket has had to adapt. Ford consolidated the front bumper design among the various models for the 2013-14 years as well. Unfortunately, if they had done this in 2010 then the bumpers and hoods for all six years would match. This is of course assuming Ford changes them again in 2015 for the 50th Anniversary Mustangs.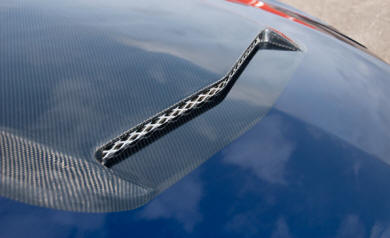 Advantages & Different Types of Aftermarket Mustang Hoods
Aftermarket hoods add a huge improvement to the styling of your Mustang. Hoods go past just looking better but they also have various performance advantages. There are three basic types of hoods. First you have hoods that are taller than factory, these are usually to accommodate the addition of a supercharger on top of the motor as the cowl or raised area of these hoods provides more room for additions to the motor, like power adders. Second, are hoods that have some type of scoop that will ram air into the engine compartment. Some will even dump the air directly into the air filter. The actual amount of air that gets forced into the engine compartment will vary by the size and placement of the scoop. The faster your Mustang is traveling, the more air actually goes right over the hood and hits the windshield, thus resulting in less air actually getting rammed into the scoop.
The third type of hood you can get for a 2005-2014 Mustang is one that vents heat from the engine compartment. This type of hood is sometimes combined with ram air scoops as well. Vented hoods most likely give your Mustang the greatest amount of performance gain. Cooler temps result in your engine making more power. Some of these hoods have vents right on the top and some vent it directly out the back of the hood. The hoods that vent from the top usually have some sort of catch pan for water, thus enabling you to use them in all weather conditions.
Another performance gain from aftermarket hoods is that they weigh less than a Mustang's factory hood, depending entirely on the material. Fiberglass is not much lighter, but carbon fiber and plastic will be much lighter and significantly reduce weight. Any weight savings translates into a faster car, especially when removing it from the front end of the car.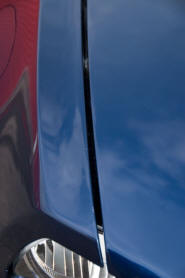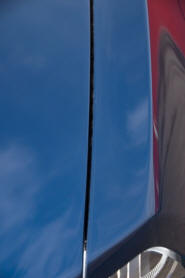 Installing an Aftermarket Hood on a 2005-2014 Mustang
Installation of an aftermarket hood is not very difficult but it does usually take at least two people. Three makes it much easier. Two people will need to hold the hood and one to insert and tighten the bolts. Check out an install guide or two and do some research before you buy the hood as some will require you to relocate your windshield washer nozzles. You will want to plan for this ahead of time. There are kits available or you can derive your own solution.
Also be aware that aftermarket hoods may or may not accommodate the factory heat shield. You also need to decide if you want to paint the underside as well. Some hoods will work with hood struts and some will not. It's also a good idea to paint your hood even if it is carbon fiber for protection and styling purposes. Also note that aftermarket hoods may require a shim kit to get them to line up straight with your fenders. All of these issues can be accounted for by reading a few install guides or product reviews before ordering a new hood.
Lastly before you buy the hood you should also plan on a set of real hood pins. The fake hood pins are not going to hold down your hood at high speeds. Aftermarket hoods themselves may be strong but the hood latch may fail with time and exposure to high speeds. There are plenty of stories of hood popping up at high speed. So be safe and get a set of hood pins, it will be the single most cost-effective purchase you will ever make if the hood latch does in fact fail.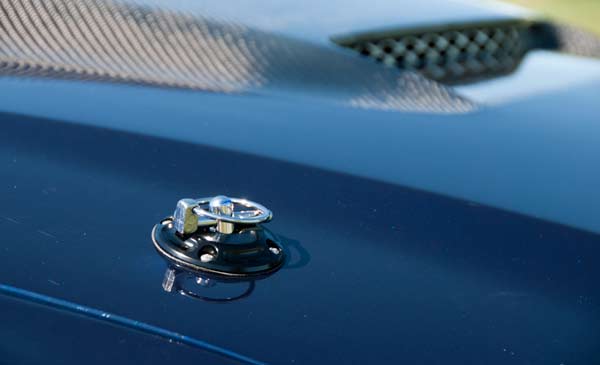 FItment includes: • 2005, 2006, 2007, 2008, 2009, 2010, 2011, 2012, 2013, 2014, GT, V6, Bullitt, GT500, Boss Mustangs