Fox Body 5-lug Conversion Process
All Fox Body Mustangs came from the factory with a 4-lug wheel pattern. Whether it was due to ease of manufacturing, the corporate bean counters or some other factor, we will never know for sure. That is what Ford decided, and subsequently that is what was used for the Fox Mustang platform. At the time, it was certainly not a problem, as millions of cars came standard with 4-lug. Even today, the 4-lug pattern has no real questionable issues, as vehicle manufacturers continue to use them. Why is it then, that a 5-lug conversion is so popular amongst Mustang enthusiasts? If it were a question of reliability or strength, surely the 4-lug pattern would've disappeared many years ago.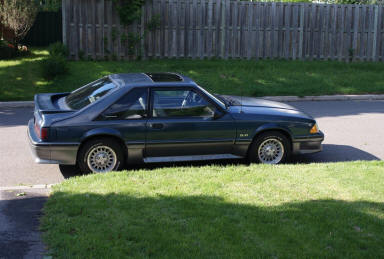 So, why convert a Fox Body Mustang to a 5-lug wheel pattern?
First and foremost, let's get it out there that a 5-lug conversion is not really a performance upgrade, or at least a performance upgrade that can be measured in horsepower or torque. Rather, the choice to go 5-lug is based upon something entirely different. At first glance, strength probably springs to mind; 5-lug is stronger than 4-lug. Yes, this is most definitely correct. Having 5 lugs as opposed to 4 lugs does offer an increase in strength, as now there are 5-lugs to bear the load instead of 4. However, a stock 28-spline Mustang axle will usually break long before a wheel lug does, even on a 4-lug setup. So, no, strength is not the main reason that people choose to convert their car to 5-lug.
A 5 Lug Swap & Wheel Selections
Rather, the choice is based more or less on style and adaptability. The Mustangs of today come with a 5-lug wheel pattern direct from Dearborn, Michigan. Subsequently, the aftermarket wheel companies have followed suit and switched their focus from 4-lug to 5-lug designs. Thus, the majority of bling-bling, flashy wheels are now 5 lug, and the only way to get them on a Fox is, of course, to convert the Fox to 5 lug so that the new wheels can be accommodated. Luckily, converting to 5-lug really isn't all that hard, especially with aftermarket offerings that include all the parts necessary in one kit. If you were paying attention, you would recall that 2 reasons were mentioned for the 5-lug push – style and adaptability. Before continuing on in detail about the conversion process, let us address the second reason, adaptability.
What is meant, precisely, by the term "adaptability?" Well, let us begin by saying wheel manufacturers aren't the only ones to have moved on. It is well known that the Fox Body braking system leaves a lot to be desired. Furthermore, it may or may not be well known that upgrading the brakes, in 4-lug form, is very limited. There is the piece de resistance; "upgrading the brakes, in 4-lug form, is very limited." Certain manufacturers offer big brake kits for Fox Mustangs. However, with the 4-lug setup, they will not fit due to clearance issues with 4 lug wheels. Thereby, if you wish for a big brake kit, you must convert to a 5 lug pattern first, such that you can get wheels with the appropriate spacing to fit the larger braking components. All of this to say, the term 'adaptability' simply means you have more room to grow, more options to choose from in terms of brake upgrades with a 5 lug wheel setup. Right, with that explained, let's move on to the conversion process.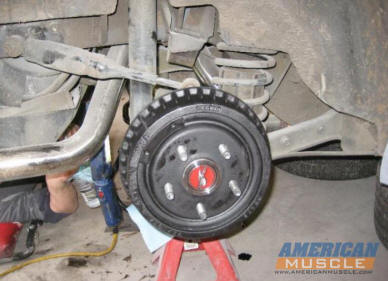 Mustang 5-lug Conversion Process
As already stated, converting from 4-lug to 5-lug is not a daunting task. A good handyman could have it done in time to catch the evening game, with beer in hand and aftermarket 5-lug conversion kits are sold with all the parts you need to get the job done properly. A proper kit will have the front rotors, rear axles (most kits come with stock 28-spline axles), accompanying 5 lug drums and the necessary axle bearings to do the swap. In terms of work needing to be done, for the front, simply swap the old rotors with the new 5 lug rotors. For the back, it'll take a bit more work, but again, not too hard at all.
To convert the rear, you'll need to pull the drums off and the axles out of their housing. Once done, slide the new axles in with the proper bearings, throw on the matching 5-lug drums and you're set. Of course, these instructions are just a shadow and don't quite encapsulate all the detail necessary to do the job, so don't follow them to a T! Fair warning!
On a side note, if you plan on building a horsepower monster, a 5 lug conversion is a good time to upgrade the stock 28-spline axles to something more durable like 31-spline, since you will be pulling them for the 5-lug conversion anyway.
Do not forget, with a 5 lug conversion, you'll need new 5-lug wheels for your Mustang! The neighbors would have a good laugh if they witness you doing all this work and then trying to put the 4-lug wheels back on! Anyways, this ought not to be a problem, because the main purpose of a 5-lug conversion is to expand the pool of potential rims. Finding a unique set to match your ride definitely shouldn't pose a problem.