Oversteer & Understeer in a Mustang - Differences & Explanations
• Oversteer occurs during a turn and causes your car to feel as if it is turning too far, with the rear of the vehicle loosing traction

• Understeer describes a turning condition that feels as if your aren't going to make it through the turn

• Oversteer can be prevented by stiffening the front suspension by replacing or adding the front strut tower brace and replacing the front sway bar with a stronger, thicker brace

• Understeer can be prevented by adding a stiffer rear sway bar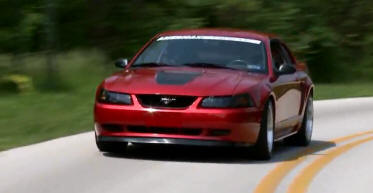 Oversteer & The Ford Mustang
Oversteer occurs during a turn and causes your car to feel as if it is turning too far, usually causing the rear of the car to slip, resulting in a panicked feeling and loss of control over the rear wheels. In the most extreme examples, the rear of the car rotates far enough that it spins out, or feels as if it will spin past the front of the car. Oversteer, though the less common in Mustangs than understeer, can still be greatly reduced with the right modifications.
Understeer
Understeer describes a turning condition that feels as if you aren't going to make it through the turn. This plowing feeling sends the car towards the outside of the turn and feels like the car will not be able to successfully navigate the entire bend. In most instances, the driver will be required to brake and turn the wheel harder or risk not making it through the entire bend.
Many times, your Mustang may experience both understeer and oversteer. If you're experiencing understeer, hitting your brakes may help you gain control as it transfers weight to the front tires and increases traction on a dry surface. For oversteer however, hitting your brakes would worsen the situation as it transfers weight from the rear where that weight is needed to power through the turn. This weight when braking is then sent to the nose of the car, causing the rear to spin towards the front. Most Mustangs were designed with a natural tenancy to understeer as opposed to oversteering. Like oversteer, understeer can be reduced by replacing and adding suspension components.
Ways to Prevent Oversteer in a Mustang
Oversteer can be prevented by stiffening the front suspension. Two extremely easy ways to do this is by adding or replacing the front strut tower brace and replacing the front sway bar with a stronger, thicker brace. These mods reduce cornering force placed on the front tires, better distributing that force over the entire car. Sway bars and strut tower braces reduce body roll during turns and create a more responsive feel when steering the vehicle, making them more fun to drive.
Note that if you are looking to fix a problem with oversteer, you must give attention to the front suspension. Stiffening one end of the car's suspension will give the opposite end more traction, and vice versa.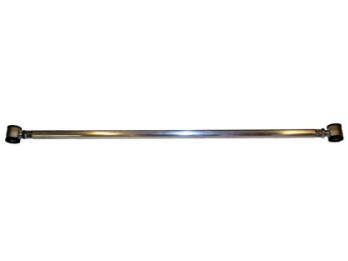 Ways to Prevent Understeer in a Mustang
A much more common problem is Understeer. Because Ford, as well as many other car companies find understeer less problematic for the driver than oversteer, most Mustangs were not well equipped to handle understeer problems. From the factory these cars tend to plow through turns and require braking to fully navigate through a sharp turn or a bend taken at high speeds. For the enthusiast who wants to take their car onto a road course, or just enjoys corner carving, a stiffer rear sway bar will greatly reduce the understeer the car experiences. Even if you have no performance aspirations, or you just use your Mustang for daily driving, upgrading your rear suspension will greatly improve handling and safety and is a must-have mod, especially if you own a car that did not come with a rear sway bar from the factory (and many models over the years were not equipped with a rear sway bar).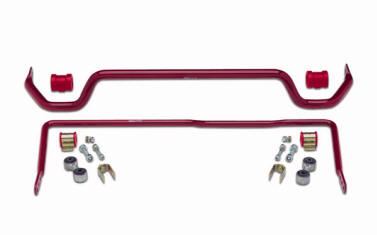 Complementary Suspension Parts For Mustangs
If you plan on using lowering springs to lower your Mustang, you may need a bumpsteer kit to adjust the geometry and compensate for handling issues that can arise from lowering a Mustang. And for even more precise handling, you can throw on a panhard bar and reduce or eliminate rear axle movement, or rear-steer (rear-steer is when the movement of the rear axle causes the car to in sense, steer itself without action from the driver).
Whatever model Mustang you have and however you decide to use it, oversteer and understeer are two pesky and potentially dangerous problems you are bound to encounter. Luckily, with little effort you can all but eliminate both understeer and oversteer in your Mustang and greatly increase overall handling and safety.
FItment includes: • 1979, 1980, 1981, 1982, 1983, 1984, 1985, 1986, 1987, 1988, 1989, 1990, 1991, 1992, 1993, 1994, 1995, 1996, 1997, 1998, 1999, 2000, 2001, 2002, 2003, 2004, 2005, 2006, 2007, 2008, 2009, 2010, 2011, 2012, 2013, 2014, LX, GT, SVO, Cobra, V6, Mach 1, Bullitt, GT500, Boss Mustangs