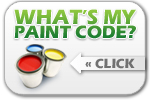 Aggressive Muscle Car Styling.
Add the aggressive styling of a late 60's Muscle Mustang to your 21st century ride with a set of Modern Muscle Design Lower Side Scoops from AmericanMuscle for impressive styling. These Side scoops not only look great, but are pre-painted to match your Mustangs factory color straight out of the box, saving you time and money!
Painted Here to Match 2005-2009 Factory Mustang Colors.
These MMD Side Scoops are painted right here, at AmericanMuscle HQ, with the same base coat clear coat urethane paint Ford used on the exterior of your Mustang to match your stock factory color perfectly.
Durable ABS Material.
These Modern Muscle Design Side Scoops are manufactured from injection molded automotive grade acrylonitrile butadiene styrene (ABS) material for its light-weight and superior durability.
No Drilling Required.
Installation of these MMD lower side scoops is quick and easy with NO drilling or messy fiberglass required. These scoops install easily with the supplied 3M doubled sided automotive bonding tape allowing you to personalize your Pony in just minutes.
Application.
These Pre-Painted Modern Muscle Design Mustang Side Scoops are designed to be a perfect fit on any 2005 to 2009 Mustang, including the V6, GT, Bullitt or Shelby GT500 models. Sold as a set of two, one driver side and one passenger side.
Mustang Fitment:
2005, 2006, 2007, 2008, 2009
Details >>