Fox Body Restoration - Choosing Where to Start
When talking about Fox Body restoration, the first thing that often comes to mind is sending the Mustang in for a kick-ass paint job, and rightly so! The only thing that trumps a freshly painted Pony is a freshly painted Pony WITH a model in the passenger seat! However, in most cases, painting is not going to be the only expense. Body work to remove and fix the rust patches, pulling and evening out any dents – this small stuff can quickly add up. The question to be asked is not one regarding whether to paint the car or not, but rather to have a body shop repair any blemishes over replacing the entire piece.
The aftermarket has procured direct-fit, replacement panels for just about every major exterior section of a Fox Body. Bumper covers, front fenders, rear quarter panels, LX and GT moldings, floor panels etc. These are the major components that will receive the brunt of a treatment during a restoration. All of these are available as unpainted, replacement pieces or pre-painted to match the factory OEM color.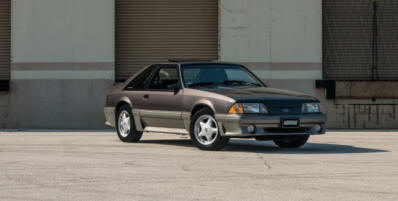 Fox Body OEM Bumper Covers
Both the front and rear lower-portion of the car are urethane-molded bumper covers, available in GT or LX trim. Now, as they are urethane, the bumper covers will not rust, but in the event of a small collision or prolonged exposure to the sun, it is not uncommon to see them missing chunks, cracked or otherwise warped. Any other conditions than a light scratch or peeling paint really isn't effectively repairable.

Side Moldings
The GT side moldings, in most cases, don't really suffer from irreparable damage. The majority of damage results from flying rocks and typically just need to be repainted. In the event that a simple re-spray will not do the job, the aftermarket has every molding necessary, from the front fender moldings to the rear quarter panel scoops. Paint to patch and install with double-sided 3M automotive adhesive tape – just like the factory pieces.
Front fenders: For whatever reason (well, probably due to living in road grime), the main area susceptible to rust on the front fenders is actually on the underside of them. Replacement steel fenders are ideal for those cases where the rust is already too heavy, or moderate enough that sanding it down will only last temporarily. If you see rust bubbling through the surface of a front fender, this is usually an indication that the fender is beyond salvage (not worth the man hours to fix – replace instead).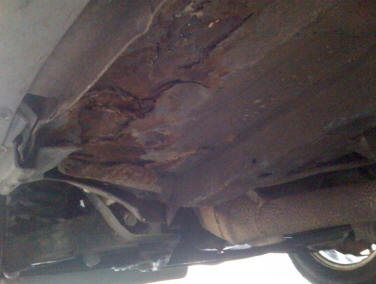 Rear Quarter Panels:
Rusting quarter panels and Mustangs go way, way back – like, to their inauguration in the sixties, back. Akin to the front fenders, they are susceptible to rust in the wheel well, but perhaps the greatest mystery is their ability (and love) to sprout the bubbly brown iron smack in the middle of the quarter panel. Not only is this an unpleasant aesthetic landmark, once they pop up, they're difficult to smack down. It is similar to an endless game of whack-a-mole. One patch bubbles up, is taken care of, and then a new one moves into town. The newcomer is taken care of only to have the original area resurrect itself! A new quarter panel is going to end this problem once and for all, and you'll save some dough on the preparatory body work.
Fox Body Floor Pans:
Another big area of concern is your Fox Body's floor pans. Due to the unibody design of Fox Body Mustangs, the floor pan actually plays a critical role in overall strength of the chassis. A rusted through floor pan can severely compromise the structural integrity of the vehicle. On a lighter note, no one likes wet feet! Rust on a floor pan is forewarning to a hole, and will eventually need to be replaced.
Replacement floor pans
come as a direct fit, and are made of very durable, 18-gauge stamped steel. Now, installing floor pans requires welding, and for the best fit, finish and overall strength, it is recommended to have a professional do it.
Aftermarket Mustang Body Kits
The above talked exclusively about OEM restoration pieces – i.e: how to make a Fox look like it just rolled out of the Ford factory, 80's style. On the other hand, Cervini has devised a body kit to replicate the limited-edition Saleen Mustang's. Direct-fit like the OEM pieces, the Saleen kit changes the front air dam, rear valence and side skirts on LX models.
Fox Body Restoration Final Considerations
The idea when doing an exterior restoration is to accurately evaluate what can be repaired, and what needs to be replaced. Nearly all aspects of a Fox Body can be repaired, but at what cost? In many cases, purchasing a new replacement part will actually cost less than the amount you would spend on labor fixing the old part! Now, when you buy new parts, of course there is the issue of installation. The good news is, apart from the floor pans, all components mentioned above can be removed and installed by the average Joe, with a simple socket set. Thus, if you have an afternoon to spend removing the front end, you can further shrink your costs by only having to pay for paint work if you order your parts unpainted. Removing the body panels is not really difficult at all, and as stated, a solid afternoon of work can have the entire front end of the car apart! Restorations typically conjure images of empty wallets and massive credit card statements. With careful part selection and a can-do attitude, this doesn't have to be the case!
FItment includes: • 1979, 1980, 1981, 1982, 1983, 1984, 1985, 1986, 1987, 1988, 1989, 1990, 1991, 1992, 1993, LX, GT, SVO, Cobra Mustangs