Most Common Fox Body Mustang Exterior and Trim Restoration Parts
• Spoilers & Wings—Stock spoilers and wings wear relatively well, and often, the only restoration needed is sanding and repainting

• Grille Inserts—A popular restoration is to switch out the stock Fox grille insert with the Cobra insert, which features the iconic running horse

• Badges & Emblems—Time will degrade the original badges, and replacement badges are $10 a piece
Fox Body Spoilers & Wings
The only significant body part that has not been discussed up to date is the rear spoiler. Depending on trim level and year, there are many different wings that Ford equipped on the Mustang. LX hatchback models featured a small wing at the back (I always think of it as a lip, as it resembles a small ramp) whereas GT models had a larger spoiler planted on the back. Notchback models could make a wall jealous, as their trunks were flat as flat could be, with no spoiler at all. Convertible models featured a functional luggage rack on the trunk lid. But, that is enough history. What we want to examine is restoration options.
Quite frankly, on LX and GT models, the spoilers 'wear' fairly well. In my experience, these stock spoilers seem almost immune to rust, thus hardly ever needing repair. Thus when it comes to restoration, the majority of them only need be sanded and repainted. So, the real question begs, do you want a different style?
There is a fine line between aggressive and overly tacky – and no muscle car owner wants to fall into the latter category. Aftermarket manufacturer Cervini has procured several wing styles, modeled after limited production Mustangs, to slap on the trunk if you're seeking an alternative look. Offered is a reproduction wing from the 1993 Cobra or, a reproduction from the limited edition Saleen Fox Mustangs.
If either of those styles are a bit too bold for your tastes, many enthusiasts go with what is simply labeled a 'sport' wing. Less extravagant and with smoother lines, the sport wing is an extremely popular choice amongst convertible owners.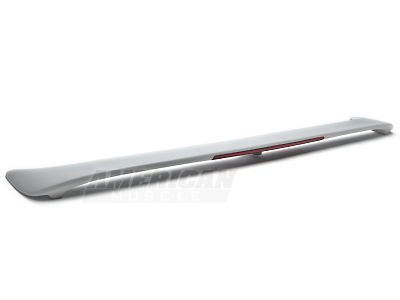 Sport Wing
All of these wings come unpainted, are made of durable fibreglass and feature provisions for a third brake light. Take it to your local body guy, have it sprayed the color of your choice and bolt it in place. Install is pretty simple, however some wings may have slightly different or additional mounting points, so you may have to take a drill to 'ye old trunk.
Mustang Grille Inserts
Another favorite restoration option is to swap the stock Ford badge at the front of the Fox with a grille insert featuring the more iconic running horse. In technical terms, we are talking about a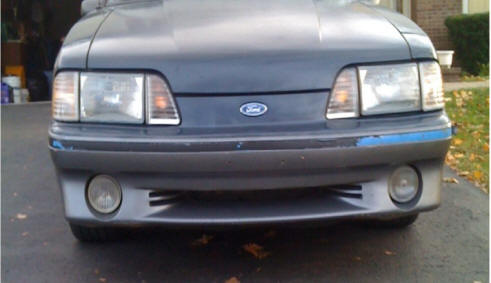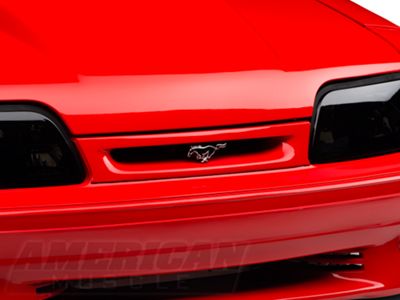 Cobra grille insert. As mentioned, regular Foxbody Mustangs featured the blue oval attached to the bumper cover, which is a solid piece. The Cobra grille features the running horse logo with an added opening for air to flow through to the engine - bonus! Install does require a cut-out to be made in the original cover.
Trim pieces and weather stripping
All right, we're almost through it all. Just a few more components to go through and the restoration process will be complete! Next up to look at, which, ironically are quite often overlooked, are the various exterior trim pieces and weather stripping.
The weather stripping itself isn't so noticeable. What is noticeable, however, is the water that may enter the cabin as result of degraded weather stripping! Thus, when doing a resto, it is always a good idea to pass a careful eye over the weather stripping around the doors, windows and particularly around the sunroof or T-tops, if so equipped. Ripped or torn rubber, stripping that has pulled away from the frame member should be replaced. You can buy a complete kit for your Stang at a reasonable price and have it all done with some glue and several hours of work. You want to make sure water is running off the Fox, not into it!
Around the windows, check the belt moldings and replace if needed. It is not uncommon to find moldings like this: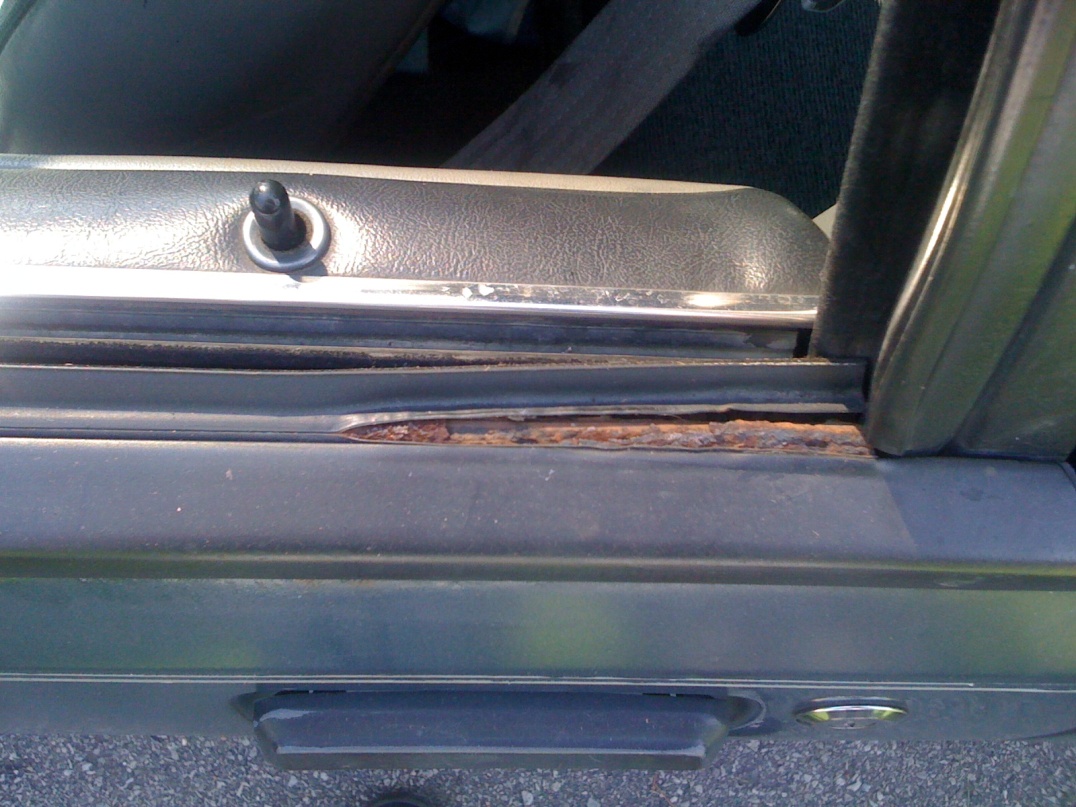 They are not a big deal to replace, either. A single screw, accessed via the door jam, is all it takes to slide the old ones out and the new ones in.
Fox Mustang Badges and Emblems
The cherry on top or the final element, whichever way you prefer to look at it, of the restoration is to replace the old, tarnished Ford and 5.0 badges with new ones. The sands of time actually will degrade the original badges, and at $10 a piece, it makes it really affordable to pick up some new ones and stick 'em on. Be proud of the blue oval!
Final Thoughts - Restoration
Right, part I looked exclusively at restoring major body components of a Foxbody Mustang. Part II focused entirely on hoods because as stated, the hood, being the piece of largest surface area, definitely can act as a center piece. Finally, part III slowly went through the lesser items, the more minute details of a restoration. By no means is this a be-all-end-all guide, but it certainly lays a (very) solid foundation for anybody wishing to restore their Foxbody Mustang. Another important aspect to realize is that a restoration need not require a second mortgage – quite the contrary, in fact. The Foxbody Mustang is a relatively simple car to work on, thus enabling owners to tackle nearly any job without breaking the bank. That being said, what're you waiting for? Restore that Pony back to glory! Even 25 years later, with some good old fashioned elbow grease, the Foxbody Mustang can still rule the streets.
FItment includes: • 1979, 1980, 1981, 1982, 1983, 1984, 1985, 1986, 1987, 1988, 1989, 1990, 1991, 1992, 1993, LX, GT, SVO, Cobra Mustangs