Fox Body Air Induction - The Throttle Body & Intake Manifold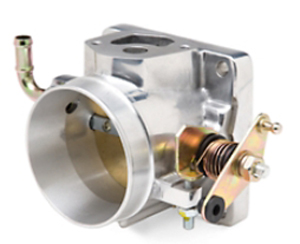 The Throttle Body:
When picking a throttle body there are, like the mass air meter, a few important aspects to consider. Throttle body sizing is a widely disputed topic amongst Mustang enthusiasts. The stock throttle body is a single blade piece, measuring a marginal 60mm across (58mm for 1986). Needless to say, it is a bit too small when looking to make more power. A throttle body size between 65-75mm will suffice for virtually any street going Mustang. Anything bigger may actually degrade performance on a stock bore motor. Even 75mm is considered by some to be too big. A 70mm unit is recommended for 5.0L displacement modified engines. Accufab, BBK and SR Performance produce remarkable replacement throttle bodies ranging from 65-75mm. Their quality is top-notch and install on any of them is a breeze, figure just a couple of hours to get the old out and the new in.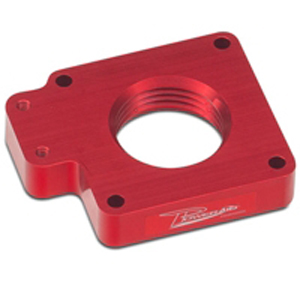 Mustang EGR Plates and Throttle Body Spacers:
Another aspect when purchasing an aftermarket throttle body is their accompanying EGR or spacer plate. Stock 5.0L Foxbodies are equipped with an EGR plate between the throttle body and intake manifold. If you wish to keep the EGR system functioning, make sure you buy an EGR plate that matches the size of your new throttle body (combo packages are available and highly recommended, you can save a few dollars this way) because otherwise, the old EGR plate (also 60mm) will negate all the good effects the new throttle body is supposed to bring! If you are ditching the EGR system, then a plain throttle body spacer is all you need. Again just pick one with the corresponding size.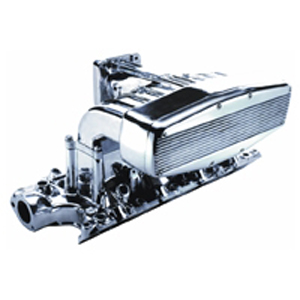 Fox Body Intake Manifolds
OK, we're done with all the necessary top end air related supporting modifications. Next, we can move on to making some real power. Next up for replacement is the stock intake manifold. When done properly, a gain of 30HP can be found with an aftermarket intake manifold and the proper supporting parts.
Ford Racing:
Ford Racing has an immense inventory of aftermarket parts to improve on their original 5.0L design. For the intake manifold, they offer the Ford Racing Cobra manifold. This manifold is an exact reproduction of the original 1993 Cobra SVT casting, a long popular choice for hot rodders on a budget. The Cobra is good for street and strip use as it maintains low end torque but thanks to a better flowing casting, produces more power than stock. Ford claims the Cobra will support engines with 350HP+.
BBK:
BBK enters the fray with its SSI intake manifold kit, including hi-flow billet fuel rails to optimize fuel movement. The SSI features an open runner blueprint allowing for a cooler air mixture and equal airflow distribution to the lower manifold. It also features a removable baffle plate to ease access to the fuel runners if installing nitrous jets. The SSI can see gains of up to 30HP on an otherwise stock motor.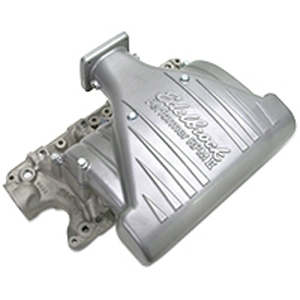 Edelbrock:
Edelbrock is another big name in the Mustang aftermarket business. In this situation, Edelbrock offers 3 different intake manifolds depending on your needs, the Performer, Performer RPM II and the Victor – all EFI manifolds.
Performer Manifolds:
The Performer is based on a rectangle style shape similar to the stock piece but the similarities end there. The Performer will outrun the stock intake any day, with increases of 37 HP a real possibility and no loss of low range torque. The Performer is a great street car choice because it operates within the stock rev range off idle to 5500 rpm. The Performer RPM II manifold offers superior performance for engines built to spin a little higher, between 1500-6500rpm. This too is a solid choice for those looking to mix their car between the street and track. Edelbrock recommends a 70mm throttle body to use in conjunction with the Performer and Performer RPM II. Furthermore, they both feature a removable plate to gain instantaneous access to the internal runners for easy porting.
Victor EFI Manifold:
Finally, the Victor EFI manifold is Edelbrock's purebred, engineered for high performance racing engines pushing a lot of horsepower. The Victor favors power at higher engine speeds, 3500-7500 rpm, and is ideally suited for a track only car. A 75mm throttle body with no EGR spacer is recommended for the Victor.
Professional Products:
Professional Products sole offering for our beloved Foxbody is their Typhoon rendition. The Typhoon is an economically friendly way to augment horsepower and torque over the entire rev range of your Fox. Very similar performance to the Edelbrock Performer and Ford Racing Cobra intakes, Professional Products' Typhoon intake is a solid intake for a powerful street car. Professional Products recommends pairing the Typhoon with a 70mm throttle body.
Trickflow:
Trickflow Specialties intake manifold comes in the form of the Street Burner, aptly named for its largely impressive street engine manners. Their specific computer engineered casting provides great low end torque and also a nice increase in high end horsepower, both greatly welcomed. Operating range is from idle-5500rpm and is advised to use with a 75mm throttle body.
Maximizing Power Output & Your Mustang's Intake
Properly building just a few key parts on the top end can net you impressive gains in horsepower, torque, throttle response and improved all around drive-ability! There are many aftermarket parts companies that all have great quality intake manifolds that can really waken up your 5.0L Foxbody, both off the line and at high speed. If paired with an aftermarket set of cylinder heads expect to see some huge gains (100HP gains are possible), as these 2 parts (stock intake manifold & cylinder heads) are considered to be the most restricting components.
- CMC