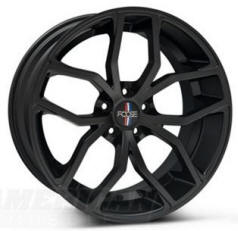 Why Put Aftermarket Wheels on a Mustang?
Ford has, over the years, offered a variety of wheels and they have some really good looking designs, but the fact is, most of those wheels are a compromise between size and bold styling and ease of production and cost. The OEM wheels also use a fairly aggressive offset, as much as 50mm on the 8.5 inch wide wheels, to keep the wheels and tires tucked well inside the wheel opening. Most aftermarket wheels push the offset more to the outside resulting in a wider stance, improving both looks and handling.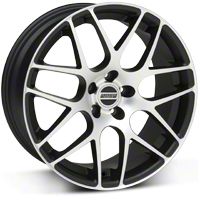 Mustang Specific: Wheel Offset and Backspacing
Offset is how far the rim center is set one way or the other from the mounting flange of the wheel. Offset and backspace are terms often interchanged, but offset determines what the backspace measurement is. And offset can be negative, meaning the rim center is offset to the outside of the wheel flange. Positive offset, of course, means the wheel is offset to the inside of the wheel flange and zero offset means the center of the rim is in line with the wheel mounting flange. Read the Mustang Wheel Guide for a complete understanding of backspacing and offset.
Mustang Wheel Finishes
Most OEM Ford Mustang wheels come from the factory painted in varying shades of silver or black, although some are polished aluminum which is clear coated. A few styles even come chrome plated. Some of the painted wheels will have machined areas for contrasting look. Colors on aftermarket Mustang wheels run the gamut; most any color or metal finish can be had. Currently the black and matte charcoal colors seem to be the most popular amongst S-197 Mustang owners, but trends change and who knows what the next hot style will be.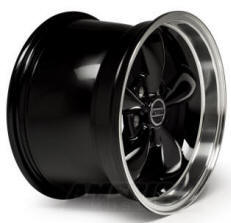 2005-2014 Mustang Wheel Sizing
S197 Mustang OEM wheel sizes run anywhere from 17x7 on the base V6 cars, all the way up to 20x10 on the rear of the top of the line Mustang GT500. The wonderful thing is all S197 Mustangs have the same size wheel openings and offset requirements, so you can take those big 19 and 20 inch Boss and GT500 wheels and bolt them right on your base V6 or GT. The only limitation as to the interchangeability of S197 Mustang wheels is whether they will fit over the brakes. The Boss and GT500 and some GT's use large Brembo brakes and need a wheel with clearance for the larger rotors and calipers. Even the base GT's now use a 13.2 inch rotor size requiring at least an 18 inch wheel. Aftermarket wheels can be had in just about any diameter and width you can imagine and in many offsets making them easy to fit to your Mustang. The Wheel Buyer's Guide has a complete list of sizing and fitment information for all late model Mustangs. And they can be had with plenty of room for those big brakes.