Installation
Below is what your tuner should look like right out of the box. Comes with instructions, tuner, USB cord to update your tunes from the computer and also comes with a personalized BAMA ID plaque.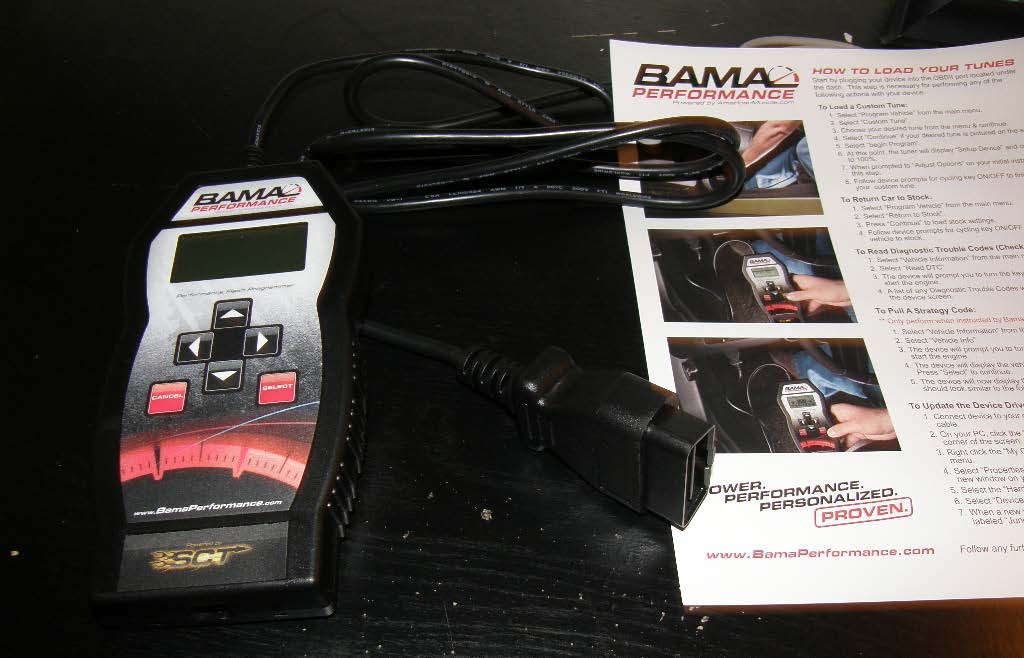 To start out, bring your tuner out to your car. Make sure you have your car keys because you will need them along the way so your tune can upload.
With the car off, plug your tuner into the OBDII port located under the driverís side dash.
After that is done, the tuner will turn on and you will want to select program vehicle (as shown below).
The next screen will ask you what you want to do. You need to scroll to the left once and select custom tune. Make sure you are turning the key to the on position and off position when it is telling you too.
Once you have selected custom tune, the (3) preloaded custom tunes that you made when ordering the tuner will show up. They will be street (S), performance (P) and race (R). Select which one you want, I chose the race tune because it will net you the most power out of all the tunes (shown below).
Once you have selected your tune, it will flash the tune to your carís ECU or computer. It will display the percentage until completed.
Once it gets to 100%, your tune is done uploading and your car has now been tuned. Unplug the tuner from the OBDII port and you are ready to drive. Enjoy!
Installation instructions provided by AmericanMuscle customer Drew Waxler 2.17.12