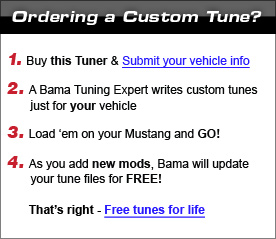 The Wait Is Over.
The DiabloSport Trinity is one of the most advanced tuning devices on the market today, and AmericanMuscle is one of the only Mustang companies offering custom Diablosport Tunes. With the capability to tune, log and record data, display and customize virtual gauges, read and clear trouble codes and even compute multiple track times the DiabloSport Trinity is the answer to all of your EFI tuning needs.
Power Programmer.
The T-1000 comes pre-loaded with multiple tunes for your Mustang including Economy, Factory, Performance, and many others (tune selection may vary from model to model).The Trinity also holds the
3 free Bama custom tunes
you'll get with this tuner.
Virtual Gauges.
With over 100MB of on board memory devoted solely to recording and playing back diagnostic PID/DMR data, it allows users to record hours and hours of continuous data streams directly from the vehicle's PCM/ECM. The Trinity interprets PID and DMR data received from the OBD-II Diagnostic port on your vehicle and converts it into a readable format: A Virtual Gauge! Individual user customization is one of Trinity's most recognizable features. With Trinity's dynamic gauge layout there is literally an infinite number of combination's/customization of gauges to view. Users can even set up gauge alarms and shift points based on precise vehicle data and using the Trinity's LED lights.
Virtual Drag Strip.
Using parameters such as the vehicles speed, peak torque, wheel speed and other factors, the Trinity is able to accurately compute quarter mile, 1/8 mile or 0-60 and 0-100 time trials. The Trinity's virtual tree allows users to choose to either monitor their reaction time (like the real world) or have the tree start when they press the gas from a stop.
Diagnostics.
The T-1000 Trinity can also be used as a diagnostic code reader. Save yourself hundreds of dollars each year by reading and clearing your own computer codes rather than paying a dealer to do the same. Its as easy as a few simple steps. The DiabloSport Trinity's diagnostic code reader function can be used on multiple vehicles at any given time.
Free Tunes for Life from Bama Custom Tuning:

Increase your mod's potential.
Factory computer settings are calibrated for the original factory components. When making performance modifications, you need to recalibrate the vehicle's computer to realize the full potential that these modifications can achieve.
Easy to load; easy to restore.
Not only are the custom tunes easy to load on your vehicle, it is just as easy to restore your factory settings. When you load your custom tune on the vehicle, the tuner automatically stores your vehicle's factory settings. To return the vehicle to its factory settings, just plug the tuner back in, select the option to restore the factory settings, and you're done.
Custom Bama Tunes specific to your vehicle.
When you order a tuner, you aren't just getting a tuner - you are getting the tuner and 3 dyno-tested custom Bama tunes:
Street (87-93 octane) - the street tune is designed as a daily driver program that focuses in on increasing mid-range power. It does give up a few HP at higher RPMs, but that's why there is a Performance file. Automatic vehicles are further enhanced by making adjustments to the transmission's shift points and firmness.



Performance (87-93 octane) - The Performance program is designed to add power at 3000 RPMs and higher, focusing more on the top end horsepower and all out performance driving. Timing, fuel and throttle response settings are slightly more aggressive than the street tune. This is a great track tune but also works well for daily drivers that are looking for a little more "get up and go" than the street tune. The automatic transmission settings are the same as in the street tune.



Race (91 - 93 octane) - The race tune will ensure the largest increase in vehicle performance. Using the highest grade of fuel available in your area is mandatory. This file is designed for "Race only Use" as the timing, fuel, and throttle response settings are very aggressive. in fact, the adjustments are so aggressive, that we do not recommend it for daily driving as it may cause your vehicle to try to jump out from a stop and easily spin the tires. Finally, with the automatics, we implement entirely new shift points and firmness settings to further enhance the all-out performance of the vehicle.
Nitrous (91-unleaded race gas)
- Our nitrous option can be added to any of our previously mentioned tune options, but only for 91-octane unleaded fuel.
The Trinity T-1000 is applicable for the following vehicles:
2005-2010 Mustang GT 4.6L
2011 Mustang GT 5.0L
2005-2010 Mustang V6 4.0L
2011 Mustang V6 3.7L
2008-2009 Mustang Bullitt
2007-2008 Shelby GT
2007-2011 Shelby GT500
What's Included.
1 DiabloSport Trinity
1 DiabloSport USB Cable
1 DiabloSport OBD2 Cable
1 Trinity Windshield Mount
1 Trintiy Software CD
1 Trinity Quick Start Guide
1 DiabloSport Sticker
For preloaded strategy tunes, pick up a Diablosport Trinity T-1000 Dashboard Monitor and Tuner (05-11).
Technical Note. The Diablosport Trinity T-1000 will
not
work on Roush and Saleen models.
| | | | |
| --- | --- | --- | --- |
| Chip/Handheld: | Handheld | Custom/Strategy: | Custom |
| Memory Size: | 100+ MB | Custom Tunes Held: | 3 |
| Year: | 2005-2011 V6, GT, Bullitt, Shelby GT, GT500 | Model: | Trinity |
| Manufacturer: | DiabloSport | Special Features: | Reading/Clearing Codes Built In |
Mustang Fitment:
2005, 2006, 2007, 2008, 2009, 2010, 2011
Details >>