Installation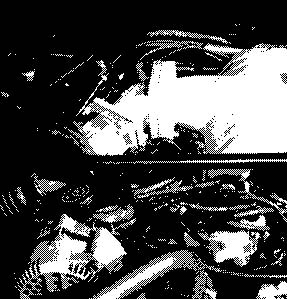 Figure 1– Throttle Body Adapter #3835 installed. Arrow shows location of 11/32" through hole which must be drilled in upper manifold.
Kit Contents
1- Throttle Body Adapter
1- Throttle Body Gasket; adapter to manifold
1- Throttle Body Gasket; adapter to Throttle Body
1- EGR Gasket
4- 5/16" x 1-1/2" carb studs
4- 5/16" hex nuts
8- 5/16" AN flat washers
3- 1-1/2" hex head bolts
1- 1-1/4" 12-point head bolt
1- 3-1/4" length 11/32" diameter fuel/vacuum hose
1- 3/8 hose connector
1- 3/8 Pipe Plug
1- 1/8 Pipe Plug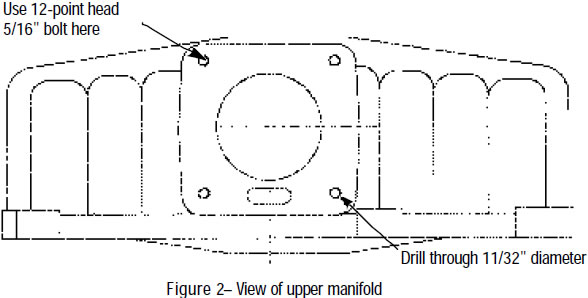 Figure 2– View of upper manifold
Please study these instructions carefully before installing your new Throttle Body and EGR Plate. If you have any questions or problems, do not hesitate to call our Technical Hotline at: (800) 416-8628 from 7:00 am to 5:00 pm, Monday through Friday, Pacific Standard Time or e-mail us at: edelbrock@edelbrock.com.
Throttle Body Adapter: The throttle body adapter #3835 is required to install any Performer 5.0 series intake manifold on 1994-95 Mustangs. It must be used with Edelbrock or stock throttle body. Performer series manifolds and adapter #3835 are stock replacement parts and are 50-state street legal for 1994-95 5.0L engines. Performer series manifolds will not clear stock strut tower brace; Edelbrock Strut Tower Brace #5225 must be used!
INSTALLATION:
Remove stock strut tower brace prior to installing intake manifold. Install manifold base per provided installation instructions.
Before installing manifold upper, drill out the threaded bolt hole indicated in Figures 1 and 2 with a 11/32" drill. This through hole will allow installation of a 5/16" bolt from the rear into the throttle body adapter.
NOTE: If manifold upper is already installed, this hole may be drilled out on vehicle if you are careful not to let chips fall into engine.
Install upper manifold.
NOTE: Before installing throttle body adapter, remove both throttle bracket studs from your stock manifold and install them on the adapter. Note that they are metric (M8 x 1.25).
Install throttle body adapter and gasket using bolts supplied.
NOTE: Use 1-1/4" 12-point bolt in upper rear position as required for clearance (see Figure 2).
Install studs (supplied) in throttle body adapter.
Install throttle body per instructions supplied.
Install EGR valve and gasket on throttle body adapter.
EGR supply tube spacer PN 8025 is required for RPM 5.0 manifolds (PN 7126 & 7123) with most aftermarket or factory headers. Edelbrock TES 6845 does not require a spacer.
Re-assemble all fittings, brackets, and other parts removed during disassembly.
Original 11/32" vacuum hose must be extended using 3-1/4" long hose and connector supplied.
Install Strut Tower Brace #5225 in place of stock strut tower brace.