Ford Mustang Transmission Tag Identifier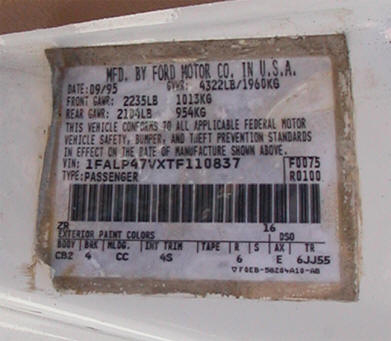 Mustang Transmission Tags:
• The transmission tag is located on your driver's side door jam

• On the bottom right of the tag there is an area labeled TR with 5 letters and numbers

• Only the first letter/number corresponds to your transmission
When it comes to buying a clutch or a shifter, it is important to be able to identify which manual Mustang transmission is installed in your car. Please note that Ford not only changed the type of transmissions used in different year and model mustangs, but also changed the size of the clutch disk as well.
What transmission do I have in my Mustang?
In order to identify what kind of Mustang transmission you have, you need to check the door tag on your driver's side door jam. If you look down to the bottom right of the tag, you should see an area labeled "TR." Underneath this label there are 5 letters and numbers. The only one that we are concerned with is the first alpha-numeric character which corresponds to your Mustang Transmission.
How to decode your Mustang's transmission tag numbers
If you have a 6 as your first digit, you have five-speed manual, T-45 OD Mustang Transmission. This is the standard Mustang transmission that is found in 1996 to Mid-2001 Mustang GTs as well as 1996 to 1998 Mustang Cobras. If you have a 5 as your first digit, your car came with a T-5 OD Mustang transmission. Finally, if you have a K as the first digit in the "TR" code, you have a TR-3650. This Mustang Transmission is found in mid-2001 to 2004 Mustang GT, the 2003 and 2004 Mach1 and the 2001 Cobra. The 2005-2007 manual Mustang GT' also has a T-3650.
Some of you may be wondering about the other 2-5 digits. They are related to your Mustang's springs, front/rear which in this case, does not help you in identifying your Mustang transmission .
If you have any other questions regarding your Mustang transmission, don't hesitate to give AmericanMuscle.com a call!
Transmission Parts
FItment includes: • 1979, 1980, 1981, 1982, 1983, 1984, 1985, 1986, 1987, 1988, 1989, 1990, 1991, 1992, 1993, 1994, 1995, 1996, 1997, 1998, 1999, 2000, 2001, 2002, 2003, 2004, 2005, 2006, 2007, 2008, 2009, 2010, 2011, 2012, 2013, 2014, LX, GT, SVO, Cobra, V6, Mach 1, Bullitt, GT500, Boss Mustangs