What are the Best Rims for an SN95 Mustang?
A set of wheels can make or break the look of a car. It is one of, if not number 1, the most important part to styling your exterior. A nice set of wheels can completely transform the look of a car. Not only are wheels extremely important for appearance but certain wheels actually offer some performance benefits over others, depending on the application. No, a set of wheels will not add any horsepower so to say, but they can definitely lower your track times. Aside from the tons of wheel companies out there making aftermarket wheels, there are a couple areas where most Mustang wheels can be grouped. Here's a quick break down to understand wheels and how the right set could benefit you.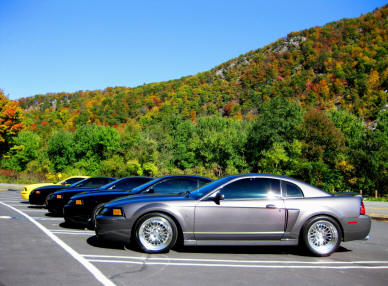 Are authentic/high-end wheels worth the cost?
A set of authentic wheels will undoubtedly turn heads wherever you are. A set of wheels by a Ford affiliated company are highly prized, mainly because of their popular names and of course the higher price tag. When people buy a Roush or Saleen Mustang, the wheels that come standard on those models are stamped with their logo and are worth more than other reproductions. Aside from the Mustang performance companies, there is a list of other wheel companies. These companies will actually custom make a set of wheels for your particular application. They can make a set to the exact size and color you want and consumers will do nearly anything to get their hands on a set.
If prominence and bragging rights are what you're after, or you have a Roush, Saleen, Foose Mustang, ect, then a set of authentically produced wheels may be for you. If you are just after the looks and performance aspect, you might be more interested in a set of reproduction style wheels.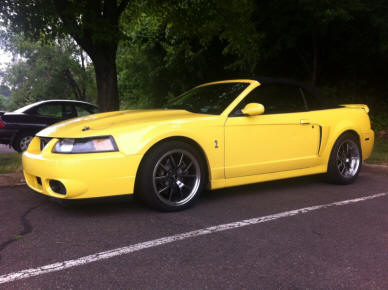 Are reproduction style wheels worth buying for my 1994-2004 Mustang?
Getting a set of reproduction wheels is very common among the Mustang community. They allow you to get the wheels and style you've always wanted at an affordable cost. This is a perfect alternative for someone who is building a car on a budget but still wants a new set of wheels, or those who aren't interested in the name brand allure of the more expensive wheels. Some of the most popular wheel styles for 1994-2004 Mustangs are Saleen, Cobra, Bullitt, FR500, and Cobra R. They all cost about the same price so you don't have to worry about the cost varying to each style. Keep in mind that 18 inch wheels may cost a little bit more than 17 inch wheels and you will find that the cost of tires will go up as well.
Is there any performance differences between big name wheels and reproduction style Mustang wheels?
From a performance standpoint, you will see little to no variation between the two. Certain styles may have weight differences between them, but when comparing identical styles, you seldom see difference in the make or quality of the wheels. Performance is usually not a factor when selecting between the two types of Mustang wheels.
Can I run a staggered wheel setup?
Choosing a reproduction style wheel for you 1994-2004 Mustang will still allow you to run a staggered wheel setup. Staggered is when the rear wheels are slightly wider than the front and will accommodate a wider tire. If you currently have a wheel that you are happy with and would still like to have that staggered look than you can just purchase a new set of rims for the exact same style you currently have. There is very wide selection is style and size so pick one you think will compliment your ride the most.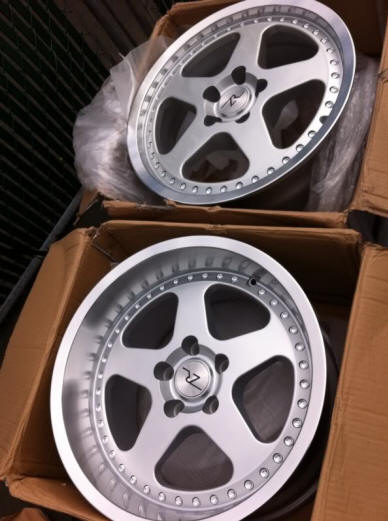 Do wheels have performance benefits?
When it comes to the track, the right set of wheels can and will lower your track times. Whether you're taking your car down the drag strip or auto crossing around a track, the set of wheels you select may hinder or help your performance.
What Mustang wheels are best for the drag strip?
For the drag strip I would recommend a set of drag lites also referred to as "fats and skinnies." These wheels are usual very narrow up front and wide in the back. A 15-16 inch rim is used in the rear to allow for a tire with a bigger sidewall, producing greater grip off the line. The added sidewall will cause the tire to collapse when launching which will not create any tire spin, granting you instant traction depending on what kind of tire you choose. Keep in mind, the narrow wheel up front is designed to save weight and will not do well around turns. This gain from the added traction and the light weight of the wheels themselves will lower your track times.
What wheels are best for an auto crossing track?
If you're more into autocross there are plenty of wheel options out there for you as well. Just like selecting a set of wheels for drag racing, you want to choose something that is both lightweight and durable enough to endure the abuse at the track. With autocross wheels you want to make sure the width of the wheels is the same unless you go with a staggered setup and you have to confirm the correct offset and backspacing in order for the wheel to fit properly.
Popular Mustang Wheel Accessories
After matching the set of wheels you've always wanted to your 1994-2004 Mustang, you can even further customize them with select wheel accessories. You can change the center caps, lug nuts, and valve stem caps to add a personalized touch to you new wheels and can better compliment your Mustang. Caliper covers and wheel bands can be installed to add some color to your setup and if your wheels don't quite sit where you want them to you can purchase wheel spacers that will push the wheels out a little bit further.
FItment includes: • 1994, 1995, 1996, 1997, 1998, 1999, 2000, 2001, 2002, 2003, 2004, GT, V6, Mach 1, Bullitt, Cobra Mustangs