Will Bullitt Wheels Fit on my Mustang?
Before detailing what different options there are when choosing bullitt rims, let's put into perspective what exactly will and will not fit on your 2010+ Mustang. For anyone who may be wondering, there is no difference in fitment between the 2010 Mustang and the proceeding 2011-2013 models. By clicking below you can find mapped out different sizes and tire recommendations for sixth-generation Mustangs.
Looking for different tire sizing calculations, or just want to see how much those new rims are going ot throw off your speedometer? A tire size calculator will help you solve fitment and spacing issues, as well as give you insight into measurements and differences between tires.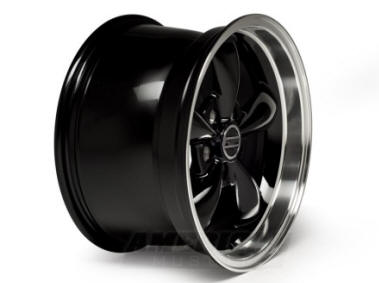 What Bullitt Wheels Work on my Mustang?
Staggered vs. non Staggered: If you like bigger tires, or need more traction from your rear wheels, you want to go with a staggered rim setup. Staggered simply means your rear wheels will be wider than your front set. For instance, you can run 9 inch wide rims on the front of the car and 10 inch wide out back. Thicker rims allow for a wider tire and better grip on the road. The result is a more aggressive look and greater ability to get your pony's power to the ground.
Standard vs. Deep-dish: With deep-dish rims the face of the rim is set back giving them a deeper inner lip. This gives the wheels a thicker, more aggressive look. Like staggered wheels, deep-dish wheels should be selected with the visual preference of the owner being the main consideration.
Size: Bullitt Wheels run anywhere from 17 - 20 inches in height and each size effects both ride quality and handling, not to mention the added weight can factor into your car's performance. Here's a generalized breakdown of each size:
17" 17 inch Bullitt Wheels will give you increased handling without changing the ride quality of your car. Ideal for road courses or just to have a nicer set of rims, 17s may improve ride quality and handling depending on what size tires you run.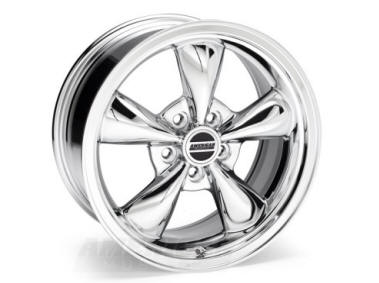 8" Like 17 inch rims, 18s will give you a better look and the same improved handling and ride quality seen in 17 in rims.
19" Moving to a 19 inch rim size is when you are doing to see a slight decrease in braking ability, as well as a noticeable weight difference from the stock wheels.
20" Getting 20" Bullitt rims is less about ride quality and more about looks. Putting a wheel this size on your Mustang will give your car the appearance of being lowered because the wheel well will be filled. However, you may experience poor handling and ride quality in exchange. Those looking to run their cars on road courses, or who are concerned about weight reduction, should consider a smaller size rim instead.
Wheel Width: Wider than stock rims increase traction and help you get every bit of horsepower to the ground. What good is 400hp if you can't launch without spinning the tires?
On the front of the 2010+ Mustang typically you will not fit larger than a run a 9" rim. While larger sizes may fit you may run into rubbing issues depending on the tire size and the added weight is also not beneficial.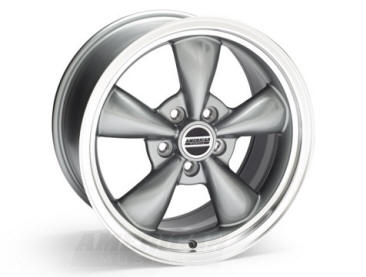 For the rear you may want to consider a wider tire depending on what look you're going for and the kind of power the car is making. Simply put, wider tires give your Mustang more traction and a meaner stance.
Mustang Bullitt Wheel Width Options
Here's a breakdown of width options for Bullitt Wheels and their preferred tire applications:
8" Stock rims generally come 16x8" or 17x8". If you are looking to replace your wheels but don't have the extra coin to spend on new tires 8" rims are what you want.
9" A slight upgrade in size and won't offer much of a change in drivability. Tires from a 245/45 to 275/40 will fit.
10" Combine 10" rims with 9"s in the front to get a staggered look that screams muscle. Using 10" rims means you can put a 275/40 on your 2010+ car, giving it better traction off the line. This size is only available in 18" and 20" rims.
10.5" Combine 10.5" rims with 9"s in the front for a staggered look that will make most think twice about challenging you to a race. A 10.5" rim gives you the freedom to put a very wide tire on the back end of your car – anywhere from 275 – 315.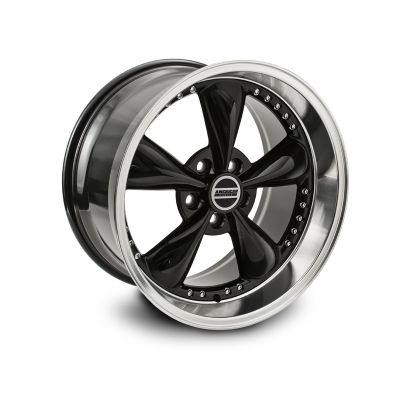 Bullitt Wheel Finish Options
Bullitt Wheel Finish Options: Wheels are the first thing most people notice when checking out your ride. To complement the exterior of your Mustang you have many different finishes to choose from.
• Chrome Wheels: The most popular finish, they are triple-plated with a clear coat finish. Extremely shiny and reflective, these wheels add class to any Mustang. While it will be impossible not to notice a Mustang rolling on clean a set of chrome Bullitts, chrome is much harder to keep clean than other finishes.
• Polished Wheels: Bare aluminum wheels that are polished. These wheels do not have a clear coat, and are duller than chrome but can also be difficult to keep clean.
• Painted Wheels: These wheels start with a basecoat, followed by multiple layers of automotive grade paint, and are finished with clear coat. The painted wheels we carry are our Silver, Black, Anthracite, and White.
• Machined Wheels: These are painted wheels with portions of the aluminum wheel machined down so that it looks like bare before the clear coat is added. Only the face of the wheel is machined. Identified by the thin lines cut into the aluminum surface during the processing of the wheel – it looks almost like a CD, but is very hard to detect.
• Hyper coated Wheels: Sometimes referred to as "Black Chrome," "Liquid Metal," or "Gun Metal." They are painted, polished and finished with a metallic clear coat. These wheels change between shades of grey/silver in different lights.

TIP: Some of the above finishes are also offered with simulated rivets (referred to as Motorsport wheels) around the lip of the wheel.
Whatever finish or size Bullitt wheels you choose you're getting a classic American style dating back to the definitive Mustangs of the 60's. Follow the link below and check out our complete list of available bullitt wheels for '10-'14 Mustangs.
FItment includes: • 2010, 2011, 2012, 2013, 2014, GT, V6, GT500, Boss Mustangs