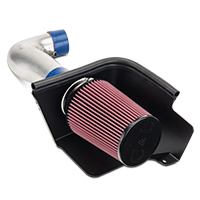 Improves Airflow for More Power. An C&L Performance Cold Air Intake completely replaces the restrictive stock factory air box and inlet tube allowing for a measured increase in airflow for more horsepower, improved torque, and better fuel economy, all while filtering out harmful power robbing particles.
More info about this cold air intake - Here


Power. Performance. Personalized. The SCT Power Flash Tuner features Bama Performance custom tunes that are written specifically for your Mustang. Our tunes are based on a 19 point questionnaire to deliver the most power and performance possible for your Mustang's modifications. All Bama Performance tunes are tested and proven on our very own in-house Dynojet 224xLC Chassis Dyno.
More info about this tuner - Here
**NOTE: Programming custom tunes may take 3-4 business days. We recommend ordering other products separately to avoid delay. Some heavily modified cars are not tunable with a mail order tune. Click for details.
Mustang Fitment:
2005, 2006, 2007, 2008, 2009
Details >>